Sen. Marshall: Biden's Vaccine Mandate will Cause Record High Unemployment Rates
(Washington, D.C., October 12, 2021) – U.S. Senator Roger Marshall, M.D. questioned U.S. Department of Labor Assistant Secretary for Employment and Training nominee Jose Javier Rodriguez recently on how he plans to handle the upcoming spike in unemployment rates caused by President Biden's vaccine mandate. During the hearing, Senator Marshall said in part,
"We had record unemployment through the COVID pandemic…Kansas like many states just did HORRIBLE trying to filter through the unemployment issues…On top of this now, the White House has issued a vaccine mandate…My phone again blowing up from small businesses, from big businesses. They are telling me maybe 30 to 50 percent of their line workers, the blue collar workers are not vaccinated. They don't plan on getting vaccinated. This is a personal choice they have made. This vaccine mandate is a slap in the face of so many people that ran to the battle. The nurses, the doctors, the ambulance drivers, our police officers, they developed natural immunity because there was no vaccine. The natural immunity [is] well proven to be better than vaccines, but the CDC and this White House will not acknowledge natural immunity. So you can see that we are on the path to more record numbers of people becoming unemployed because of Joe Biden's vaccine mandate…You have little if any experience dealing with unemployment… when we see unemployment rates spike again in the next couple months due to this vaccine mandate, what is your plan to help Kansas and other states be able to handle the problem."
You may click HERE or on the image below to watch the exchange.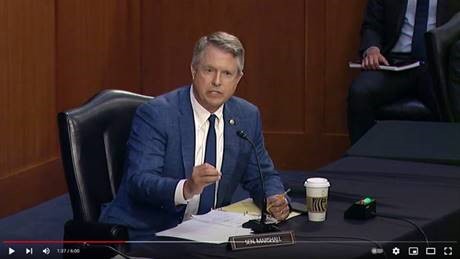 Background:
Senator Marshall has been leading the fight in the U.S. Senate to halt President Biden's vaccine mandate and to get the Administration to recognize the importance natural immunity.
In New York, thousands of individuals who just last year were health care heroes are BEING LAID OFF OR SUSPENDED resulting in staffing shortages throughout their hospital system.
As many as 10,000 teachers, cafeteria workers, and school police officers will be OUT OF WORK when New York City's vaccine mandate for school staff goes into effect this week.
FROM FORBES: Fines on private employers who employ more than 100 employees, "could run as high as $70,000 for serious infractions, and $700,000 for willful or repeated violations—almost three-quarters of a million dollars for each fine. If enacted into law, vax enforcement could bankrupt non-compliant companies even more quickly than the $14,000 OSHA fine anticipated under Biden's announced mandate."
Administration Flip Flops on COVID Vaccine Mandates:
In December, 2020, PRESIDENT BIDEN SAID, "I don't think it should be mandatory, I wouldn't demand it to be mandatory"
In July, 2021, PRESS SECRETARY JEN PSAKI said a vaccine mandate is "not the role of the federal government"
In August, 2021, PRESIDENT BIDEN'S CHIEF MEDICAL ADVISER DR. ANTHONY FAUCI said, "There's no secret that I feel that we should not have central [vaccine] mandates from the federal government."
In July, 2021 DR. FAUCI said, "I don't see it [vaccine mandate] on a national level merely because of all the situations you have upon encroaching upon a person's freedom to make their own choice of their own health."