Ahead of SOTU, Senator Marshall & GOP Colleagues Drop Bill to Ban U.S. Purchase of Russian Oil
Senators Call for American Energy Independence
(Washington, D.C., March 1, 2022) – U.S. Senator Roger Marshall, M.D. (R-KS) today introduced legislation to ban the U.S. purchase of Russian oil. The legislation comes ahead of President Joe Biden's address to the nation and in response to Russia's unjustifiable war against the sovereign nation of Ukraine. Energy Committee Republican Leader Senator John Barrasso (R-WY) and Senators Jerry Moran (R-KS), Kevin Cramer (R-ND), Rick Scott (R-FL), Chuck Grassley (R-IA), Marco Rubio (R-FL), John Hoeven (R-ND), and John Cornyn (R-TX) have cosponsored Senator Marshall's legislation. Following introduction, the Senators issued these statements:
"First and foremost, President Biden needs to restart America's energy production and quit financing Vladimir Putin's war on Ukraine by continuing to purchase crude oil from Russia. Under the previous Administration, our nation was energy independent but President Biden reversed course and turned hostile nations like Russia into America's gas station," said Senator Marshall. "Make no mistake, if President Biden fails to act, we will continue to work in Congress to hold Vladimir Putin accountable."
"Vladimir Putin's invasion of Ukraine must be a wakeup call to the Biden administration to maximize home-grown energy and not diminish America's energy independence," said Senator Moran. "Russia is America's third largest supplier of oil. Each day the U.S. and our European allies are sending hundreds of millions of dollars to Russia for its energy resources. We can no longer subsidize Russian aggression. We need an all-of-the-above approach to energy independence, and it can't be accomplished without enabling our oil and gas producers to play a larger role. The Biden administration must reinstate the Keystone XL Pipeline and promote sensible solutions that boost jobs at home and keep money out of the pockets of our adversaries."
"Why are we importing oil from Russia when the natural resources we need are in our backyard? Russian oil and gas funds Vladimir Putin's aggression in Europe. North Dakota and American oil can and should fill the gap. Banning the importation of petroleum and corresponding products from Russia is common sense and an important move for our nation's energy, economic, and national security," said Senator Cramer.
Sen. Rick Scott said, "Joe Biden has spent the last year driving America backward—it's time to make American oil and our energy independence a priority. His administration must immediately roll-back its failed Green New Deal policies, take action to boost U.S. energy production and independence, and stop the purchase of, oil and other energy resources from Russia. We can no longer do business with Vladimir Putin and his thugs which is why I am urging my colleagues to stand up in the face of brutality and pass this critical legislation immediately."
"As Putin continues bombing Ukraine and murdering innocent civilians, there is no reason we should be supporting any sector of Russia's economy. We must immediately halt all imports of Russian oil, and instead return to being energy independent by undoing President Biden's harmful energy policies," Senator Grassley said.
"Especially at a time when Vladimir Putin is invading Ukraine, there is no reason why the U.S. should be importing Russian oil, and this legislation would prohibit further Russian imports," said Senator Hoeven. "We will continue making the case to the administration to stop blocking domestic energy production and instead empower the production of more energy here at home so we aren't reliant on our adversaries. Cutting off Russia's oil industry is key to cutting off revenues funding Putin's aggression and invasion of Ukraine."
Background:
In 2021, the U.S. imported nearly 700,000 barrels of oil a day from Russia. As a nation we have been unnecessarily contributing to the industrial success of a hostile competitor that has repeatedly shown a willingness to weaponize their energy exports. Senator Marshall's bill swiftly moves to stop financing the Russian invasion of Ukraine and removes Russian fuels from American supply chains. The prohibition in the bill would take effect 15 days after enactment and would exclude shipments that are already in transit at that time. Just yesterday, Canada announced it banned imports of crude oil from Russia.
You may click HERE to view Senator Marshall's legislation.
Sen. Marshall's plan to Unleash America's Energy Independence:
Immediately Restart the Keystone XL Pipeline.
Remove burdensome regulations from America's energy producers.
Increase natural gas exports to European allies and other global partners.
Give certainty to oil and gas producers that credit will remain available to them by maintaining the independence of the Federal Reserve and withdrawing the nomination of Sarah Raskin.
Encourage FERC to reverse their decision to add new barriers to natural gas pipeline approvals.
Directly instruct the Department of the Interior to allow new oil and gas leases on public lands.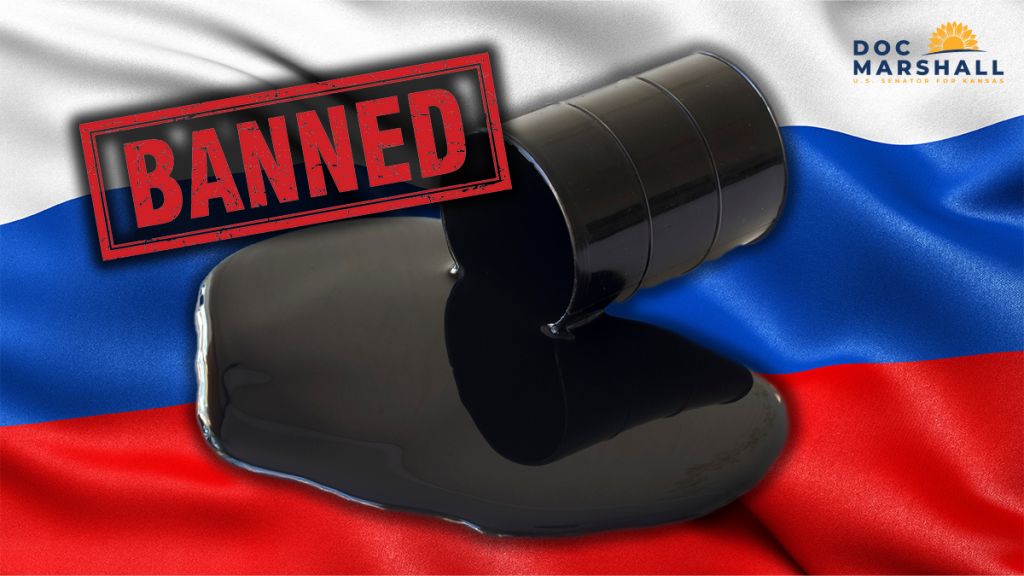 ###