Dr. Fauci Admits NIAID Won't Stop Funding Chinese Research with U.S. Tax Dollars
(Washington, D.C., June 16, 2022) – U.S. Senator Roger Marshall, M.D. questioned Dr. Anthony Fauci, Director of the National Institute of Allergy and Infectious Diseases (NIAID), about his agency's support for Chinese Communist Party research during today's Health, Education, Labor & Pensions Committee hearing. When Senator Marshall asked Dr. Fauci if he would stop using U.S. taxpayer dollars to fund projects in China – such as EcoHealth Alliance's activities at the Wuhan Institute of Virology – Dr. Fauci admitted his agency does not have any plans to do so.
While you may click HERE or on the image below to watch Senator Marshall's full exchange with Dr. Fauci, Senator Marshall prefaced his questioning by saying, in part,
"The NIH is still funding research in China, at least $8 million since 2020. In the Intelligence Community's 2022 Annual Threat Assessment, the Chinese Communist Party is presented as one of the top threats to the United States, along with Russia, Iran, Syria, and North Korea. To my knowledge, only China is receiving U.S. research dollars. The CCP controls their scientists and controls the release of research results they work on. However, NIH grants' policies require grantees to maintain supporting research records, which they cannot do when those records are under the control of the Chinese Communist Party."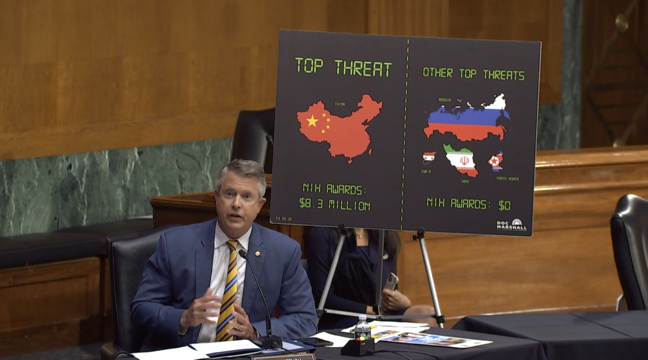 Senator Marshall asked Dr. Fauci the following questions:
When will you as Director of NIAID stop funding research in China?

Dr. Fauci: "…I don't think I'd be able to tell you that we are going to stop funding Chinese [scientific research]…"

Do you deny that the American public does not have the records and studies from EcoHealth Alliance's research?

Dr. Fauci: "…if you look at the [$120,000 – $130,000] grant that was given from EcoHealth as a subaward in China to ask a very relevant, high priority question, we have received from them published literature with data that shows they have done what they were given the grant for…
Background: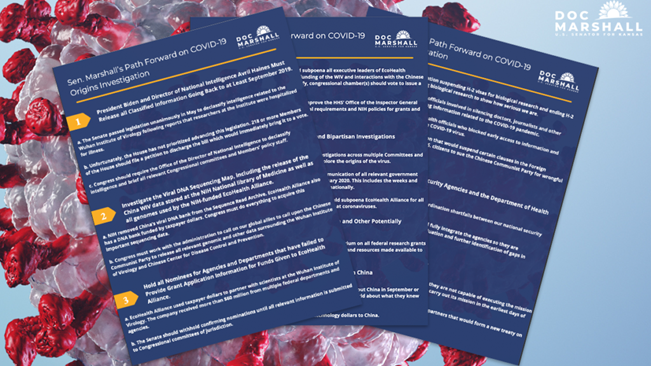 The Senator introduced a resolution calling for a bipartisan Select Committee to investigate the origins of COVID-19. The Senate passed a bipartisan amendment offered by Senator Marshall and Kirsten Gillibrand (D-NY) calling for a transparent investigation into the COVID-19 outbreak mandated by the World Health Assembly during its current session, which ends on Monday. Additionally, if China continues on its path of cover-up and obfuscation, the Marshall-Gillibrand Amendment demands a full, transparent investigation to include the U.S. and our allies and partners around the world. In fact, Senators Marshall and Gillibrand held the first joint bipartisan Senate briefing on the origins of COVID-19 bringing together healthcare, national security, medical, and academic experts.
Senators Marshall and Gillibrand joined forces with Senators Joni Ernst (R-IA) and Dianne Feinstein (D-CA) to introduce bipartisan legislation to create a 9/11-style commission to investigate COVID-19 origins and identify lessons learned regarding U.S. preparedness, response, and recovery to improve our ability to respond to future outbreaks. Senators Marshall and Gillibrand were on MSNBC's Morning Joe to discuss the legislation.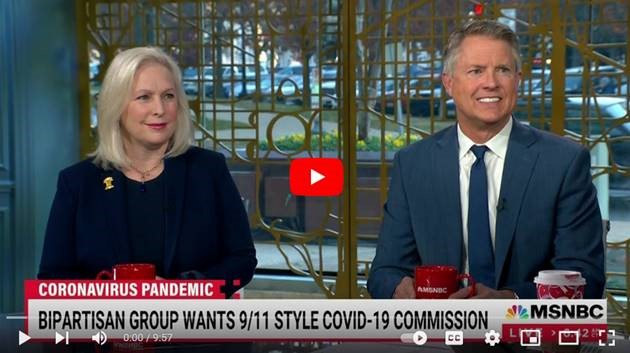 Senator Marshall was the first U.S. Senator to demand answers from the DOD and HHS on possible COVID-19 infections of U.S. Army troops who participated in the 2019 World Military Games that took place in Wuhan, China from October 18-28, 2019.
In September 2021, Senator Marshall released a video walkthrough of a 3D timeline of the origins of COVID-19. You may click HERE or on the image below to watch the video.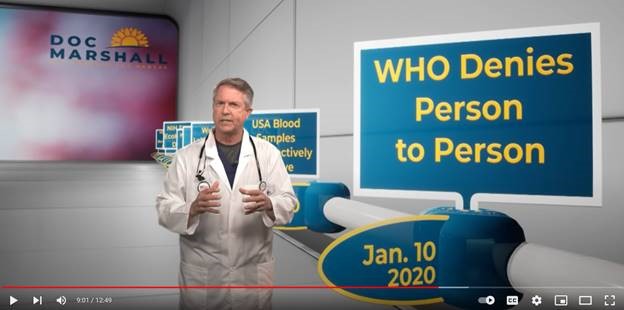 In March 2022, the U.S. Senate passed Senator Marshall's legislation to end the COVID-19 national state of emergency that is currently in effect under the National Emergencies Act (NEA). President Donald Trump invoked the NEA in March 2020 in regard to COVID-19. In February 2021 and then again in February 2022, President Joe Biden extended it. Under the NEA, Congress is mandated to determine whether the emergency should continue, a process Congress has not fully enforced, ceding power to the executive. The U.S. House of Representatives has not voted on Senator Marshall's legislation.
###