ICYMI: Sen. Marshall Introduces Kansan Steven Denny at Senate HELP Subcommittee on Mental Health Crisis
(Washington, D.C.) – U.S. Senator Roger Marshall, M.D., Ranking Member of the HELP Subcommittee on Primary Health and Retirement Security, questioned witnesses during a Senate hearing today on the United States' mental health crisis. One of the witnesses included Mr. Steven Denny, Deputy Director of Four County Mental Health Center in Independence, Kansas. Established in 1964, the mental health center currently serves Kansans across five southeastern counties. In addition, Mr. Denny is also the Project Director of Four County's Certified Community Behavioral Health Clinic Expansion Grant provided by the U.S. Substance Abuse and Mental Health Services Administration. In his testimony, Mr. Denny praised Senator Marshall for championing efforts to expand Certified Community Behavioral Health Clinics across the state. 
Additional witnesses at today's hearing included Ms. Maria Celli, Deputy CEO of Brockton Neighborhood Health Center, Dr. Warren Ng, President of the American Academy of Child and Adolescent Psychiatry, and Dr. Stephen Taylor, President Elect of the American Society of Addiction Medicine.
Senator Marshall Introduces Mr. Steven Denny, Deputy Director of Four County Mental Health Center in Independence, Kansas:
"Mr. Steven Denny, a fellow Jayhawk and a multi-generational Kansan. Mr. Denny is the Deputy Director of the Four County Mental Health Center. Their main office is in Independence, Kansas, and they proudly serve five counties across Southeastern Kansas, including Montgomery, Cowley, Wilson, Elk and Chautauqua. As I think about that, that's probably an area of about 100 miles by 70 miles, very sparsely populated, and it is the most economically challenged portion of Kansas. In addition to serving the mental health center, Mr. Denny is also the project director of Four Counties' Certified Community Behavioral Health Clinic expansion grant, provided by the U.S. Substance Abuse and Mental Health Services Administration. Under this role, Mr. Denny oversees clinical crisis and substance use treatment services, as well as seeing patients every day."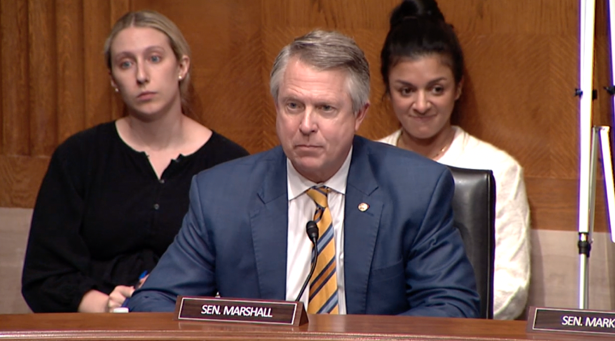 Highlights from Sen. Marshall's opening remarks included:
"Notably, substance use disorder and related deaths as a result of prescription opioids are decreasing because physicians and nurses are increasing patient awareness and utilizing other treatments for pain. However, Chairman Markey and I in this committee our aim is to prevent addiction by moving away from addictive medicines."
"We will hold the FDA accountable so patients can one day have access to innovative, non-addictive prescription drugs."
"On treatment, we'll hear from our witnesses on the successes of expanded access to medication assisted treatment, telehealth and novel coordinated care models, including Certified Community Behavioral Health Clinics, or CCBHCs, which I'm a very strong advocate for."
"We've all witnessed too many people experiencing a mental health crisis in the wrong setting, and receiving the wrong type of care. While still new, the data looks promising. People who receive care at a CCBHC spend 60% less time in jail, 70% less time in the hospital, and are much more likely to have access to a primary care provider. CCBHC also contributed to a 41% reduction in homelessness."
"For all the good our witnesses are providing, Congress must work to ensure that they can deliver timely access to care by addressing mental health parity issues. They need our help to eliminate unnecessary delays and denials from prior authorization, the number one administrative burden across all clinicians and other health care providers."
"Due to the lockdown's resulting isolation, kids increase the reliance on social media, shifting their habits beyond a casual pastime. In fact, the experts have found that overuse of social media rewires their brains to constantly seek out immediate gratification. This leads to obsessive compulsive and addictive behaviors. Studies have linked heavy social media use and increased risk for depression, anxiety, loneliness, self-harm, and even suicide ideation."
"This year, the CDC released a new survey finding that nearly 60% of young girls reported a mental health issue with 30% seriously considering suicide, double the rate that was among boys and up to almost 60% from a decade ago. We know social media companies are aware of this based upon their own similar findings."
"There is no silver bullet in solving the mental crisis, we must continue to bolster efforts on prevention, treatment and recovery. In doing so, we should value what we measure and measure what we value. As we consider reauthorizing expiring programs and exploring new ideas, they should be patient-centered, outcomes driven, cost-effective….and they must be backed by data.
Mr. Chairman, thank you again for calling this hearing and I yield back."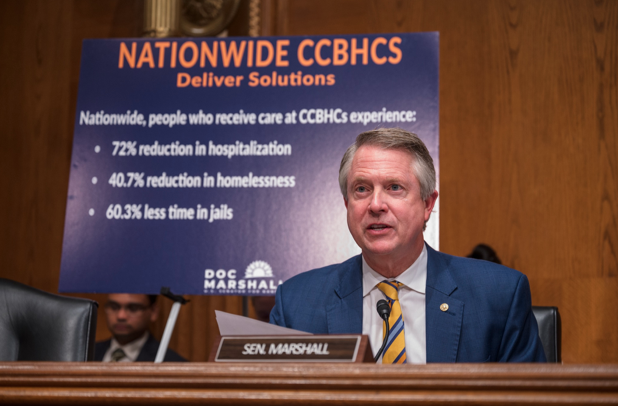 Highlights from Senator Marshall's questioning:
On mobile crisis centers:
Senator Marshall: As I travel around the state of Kansas, I think I've been in every hospital. The emergency room is the epicenter of the crisis. And the mental health epidemic has definitely impacted that. The national nurses organization in my office two weeks ago, concerned about the violence in the emergency room. There's a right place, but there's a tough place to take care of folks with mental health crises going on. But it's tough in the emergency room. ER docs are leaving the field, we're not getting new ER docs to go into the field. How have you interacted with your emergency room, and what does your mobile crisis center do?
Mr. Denny: Our mobile crisis services, to a degree, have always been mobile, we're now taking it to 2.0 in terms of being able to respond anywhere in the community. One strategy is to divert crisis in someone's home or school or other locations so they do not end up in the emergency room, that's one of big strategies that we will employ. Stabilization during a wait for a placement in inpatient hospitalization is an adaptive challenge. And what I mean by that is that there's no technical fix, that's going to immediately resolve this issue. But what we found, first of all, is partnership on the front end with our emergency rooms, and we serve a rural area. So getting to know and having plans on how we deal with emergency situations are important. Training for emergency room staff is important, at least some base level, behavioral health response training, there's different options out there. And lastly, you know one of the things we've developed in Kansas, or we're still developing are the regional crisis centers, which would provide an alternative for someone to go and wait and be assessed and stabilize, versus an emergency room. Anytime we can find a different setting to accomplish that purpose that's not as tricky as triggering or as difficult as an emergency room, I think the more of that we can do that's a state program with federal support. But the more that we can do the less of those incidents we'll see over time, but it is a challenge. It's a frustration. It takes partnership between both of our systems to work through those issues.
On tactics for the mental health crisis:
Senator Marshall: Just take one minute to tell me what you think is cutting edge and what do you think we've been doing that's not working?
Dr. Ng: I think that what's working and what's not working is also acknowledging, I think as Mr. Denny mentioned, is really creating that better continuum of care that goes from community to more intensive treatment, whether or not that's an emergency department or inpatient psychiatric units. I think what's really important to hold center is the fact that that person who's experiencing that mental health or emotional crisis is probably scared and frightened and overwhelmed as well. So, being able to center with that person is also understanding that emergency departments are never the place to be when you're in that situation. How do we humanize that environment, whether or not that's an adult or as a child or and family member? So I think that creating that continuum of care of the escalating intensity of outpatient and community services that are embedded within communities, partnering with communities to provide the most culturally competent, as well as responsive care, is really important. I think that means that we have to create some innovative programs that are funded, and sustainable, so that we can provide wraparound care for young people and their families and adults within communities. I think that we're thinking about these intensive outpatient programs, partial hospitalization, and wraparound as well as some of the critical time intervention programs that can sometimes be helpful.
###