ICYMI: Sen. Marshall Joins Fox News Radio "We Need Someone Who's Tough on China"
Washington, D.C. – U.S. Senator Roger Marshall, M.D. joined Fox News Radio with Brian Kilmeade to discuss the IRS whistleblowers testimony in the House Oversight Committee and the recent announcement that the HHS has disbarred the Wuhan Institute of Virology (WIV) and cut off all U.S. taxpayer funding due to biosecurity concerns at this lab.  Senator Marshall has sounded the alarm for years about the biosecurity concerns at this lab and beyond.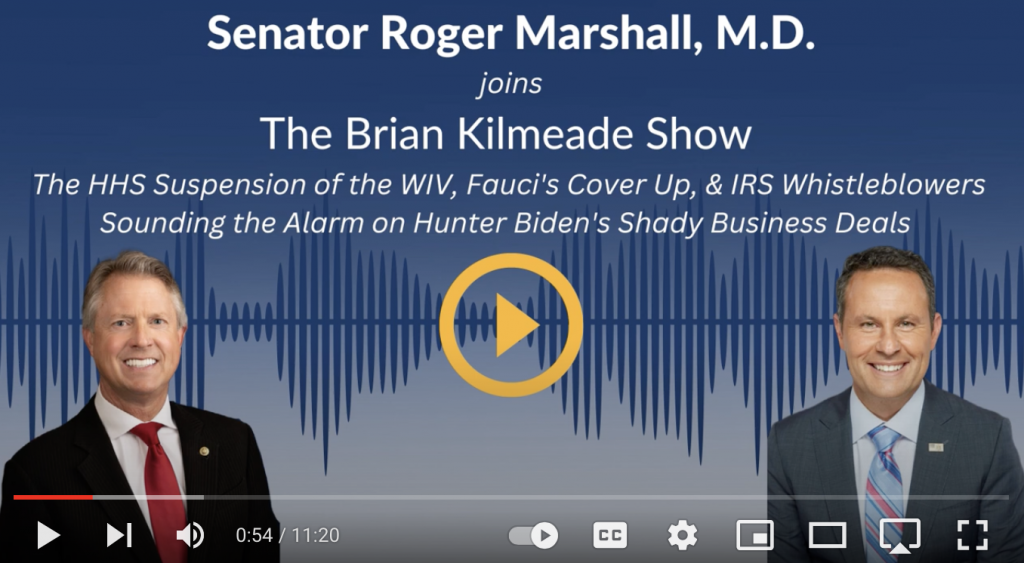 You may click HERE or on the image above to listen to Senator Marshall's full interview.
Highlights from the interview include:
On the whistleblower hearing:
"Number one, is the Biden cartel received $17 million over several years, from foreign countries and entities in those countries. Number two, is they hid the money. You know, that's what criminals do. They didn't pay their fair share of taxes- that's not being denied."
"The punishment for Hunter Biden was not consistent with the crime. I don't think anybody can deny that those are the facts. And what I was really impressed with, though, were the witnesses themselves, that these were credible, honest, patriots trying to do their duty – that these are career investigators. And they had no ax to grind that I could tell…no predetermined ax to grind with the Biden family. Even one of them was a Democrat. And they were willing to risk their career and their reputation to come forward. So I salute them for being great patriots."
On HHS suspending relationship with the Wuhan Institute of Virology:
"I've been calling for this for over two years now. What I knew two years ago was the direct trail between Dr. Fauci and the Wuhan Institute of Virology, that a preponderance of evidence suggested that the virus was made and leaked from that particular lab."
"We actually taught Dr. Shi over there, the bat lady, we taught her how to do this protein spikes on the virus. We taught her how to do viral gain of function. We knew that the Chinese military was definitely involved, that they were developing bioterrorism weapons."
"We have a video that we did, I think two years ago, on a timeline that spells all this out from day one. Fauci is involved in the cover up that he is orchestrating all the letters that come out in these magazines."
"Remember that the vaccine was ready to go before the election, but they delayed it… I mean, there's so many rabbit holes, we could go down here, many, many mistakes."
"Until we stand up to China, they're going to keep doing whatever they want to do. They know that they are the biggest bully in the room, that Joe Biden is running from them with his tail between his legs, that he's completely reactive."
"There's no respect from [President] Xi to our leader."
"Again, elections have consequences. We need someone who's going to have the fortitude to stand up to Wall Street and President Xi because let's face it, there are so many of us that benefit from doing business with China. It's easier said than done, but we need someone who's tough on China."