ICYMI: Sen. Marshall Joins RFDTV On Repealing Biden's WOTUS Rule: "It's Like A Vampire That Just Won't Die"
(Washington, D.C., March 29, 2023) – U.S. Senator Roger Marshall, M.D. appeared on RFDTV to discuss the repeal of President Biden's WOTUS rule that adds more red tape and regulations for clean water accessibility.
You may click HERE or on the image below to watch the full interview. 
Highlights from his interview include:
"WOTUS is like a vampire that just won't die. We thought we had this buried under President Trump's Administration, we had some rules we could work with, but the Biden Administration has brought it back to life now."
"I'm a 5th generation farm kid, I remember my grandfather's building terraces and now the U.S. government wants to regulate the water running off those terraces, let alone the dry creeks, the puddles, the plies out in our fields as well, so we're trying everything we can to roll this back and give our farmers and ranchers certainty."
"This could cost over $100,000 to mitigate which is a huge cost to American agriculture."
"The EPA thinks that the environment is a religion. They don't understand that farmers and ranchers were the original stewards of the land and that they are the original environmentalists. We in the ranching, farming community have to tell our story. All of us need to be telling our stories to our legislators, to our agriculture associations, to the EPA to say 'look, we want to give this land to our future generations'."
"This White House doesn't care if what they do is unconstitutional or not, so agriculture needs to step forward with two steps and keep telling our story. It feels like back home that this White House declared war on American energy and American Agriculture the day Joe Biden was sworn in."
Senator Marshall also spoke on the Senate floor ahead of its passage this afternoon. You may click HERE or on the image below to watch Senator Marshall's full speech.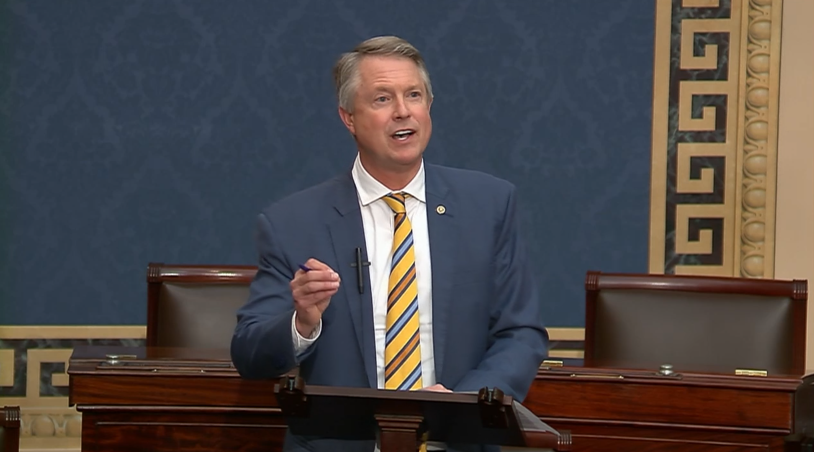 Highlights from his speech include:
"My farmers are already bracing for impact. Kansan, after Kansan I've met with on this issue, has told me that the Biden Administration didn't consider their input on the new WOTUS definition- Further proof of the clear disconnect between D.C. bureaucrats and the hardworking farmers and ranchers who provide our nation's food."
"The Biden Administration's failure to understand the ramifications of this is alarming. As members of Congress, we must ensure agricultural producers and other stakeholders have the regulatory certainty to take care of our nation's land and water resources."
###