ICYMI: Sen. Marshall on Debt Ceiling: "Joe Biden Needs to Come Out of the Basement and Faithfully Negotiate"
(Washington, D.C.) – Appearing on Mornings with Maria on Fox Business this morning, U.S. Senator Roger Marshall, M.D. called on Joe Biden to work with Congressional leaders to address our national debt crisis. In the interview, he discussed the U.S. House of Representatives legislation, Limit Save Grow Act, that would raise the debt limit for a year while simultaneously putting in place meaningful budget cuts that will rein in the reckless spending in Washington, D.C.
During his appearance, Senator Marshall also addressed the Biden Administration's new disastrous policy that increases mortgage fees for Americans with high credit scores to subsidize high-risk borrowers and slammed the latest news on the 'Big Bank Bailouts,' caused by Joe Biden's economic crisis, Bidenflation, and uncertainty across the country.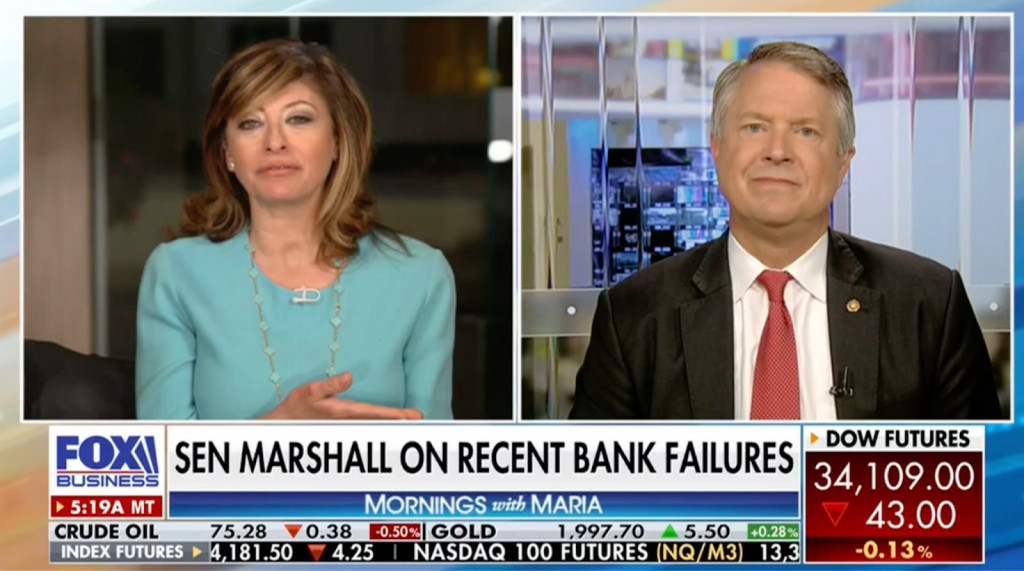 You may click HERE or on the image above to watch Senator Marshall's full interview. 
On Joe Biden negotiating with Republicans:
"The ball is in Joe Biden's court. It's up to him now, the pressure is on him. Speaker McCarthy has given him a budget that is much better for the American people."
"Joe Biden needs to come out of the basement and faithfully negotiate, but we also need a responsible budget. His policies have gotten us into this financial meltdown."
On the debt limit legislation passed by the House of Representatives:
"Sometimes Washington responds better to the pressure. I again just want to give the Republican-controlled House credit. Quite often in my town halls folks criticize us, 'why can't you Republicans stick together?' Well, they stuck together."
"This is a much more responsible budget. Again, it's not perfect but it does start reigning in some of the wasted covid dollars, work requirements, we don't touch medicare, we don't touch social security, we don't touch veterans like we promised we wouldn't. This is a good deal."
On the Biden Administration's penalties for good credit home buyers:
"The reason we are even talking about this is Joe Bidenflation, his economic policies have made housing unaffordable for hard-working Americans. Interest rates have become so high that no longer can hard-working families get into that first home or let alone go up. So now what the President wants to do is punish hard-working Americans, and add an additional fee for those of us who would have saved money, who have good credit scores, who pay off our credit cards, to subsidize subprime borrowers."
"Does this sound familiar? Are we going to repeat history again? So the White House is telling Fannie Mae and Freddie Mac they have to increase rates for those of us with credit scores to subsidize those with low-credit scores. And by the way, I sat on a community bank board for some 15 years, that's what the Community Reinvestment Act was for. We don't need more subprime lending, we don't need another financial meltdown."
On the sale of First Republic Bank and pressure on the banking sector:
"Every bank in America is going to be assessed a fee to make up for this loss of money. So a small community bank, let's say a billion dollar community bank, I bet will have to pay $100,000 or more in some type of a fee assessment to pay off the losses. Eventually those fees trickle down to folks."
"The last thing we need is more regulations. More regulations is not going to fix an incompetent management team or an irresponsible board, let alone federal regulators which are woke. That's their focus."
"I think our biggest concern, as a small community banker myself involved with that industry, our fear is that people will take their deposits to the 'Too Big to Fail' banks, creating more concentration in the industry."
"We don't need more regulations. Joe Biden's policies are creating this. No one anticipated the acceleration of the interest rates. Again, this is on the back of Joe Biden eventually. The bank needs to take responsibility, but Joe Biden's inflation is what was the undermining factor in this bank not being able to keep up with those accelerated interest rate hikes."
###