ICYMI: Sen. Marshall talks COVID-19 Origins on FOX Business
(Washington, D.C., July 1, 2021) – U.S. Senator Roger Marshall, M.D. recently appeared on FOX Business to discuss the origins of COVID-19 and the possible infection of U.S. soldiers in October 2019 following the World Military Games in Wuhan, China, saying in part,
"Every day we learn more and more information that makes China culpable for the outbreak of this virus… October of 2019 there's a World Military Games in Wuhan, China of all places… Several weeks after that event many people, many soldiers came down with a mysterious illness retrospectively very much that looks like the COVID virus… Why hasn't the CDC looked into that? Why haven't they gone back and tested them? Why hasn't the military looked into this situation? This might have been the first super spreader event out there… This cover up just gets thicker and thicker every day as we look into it."
You may click HERE or on the image below to watch Senator Marshall's full interview.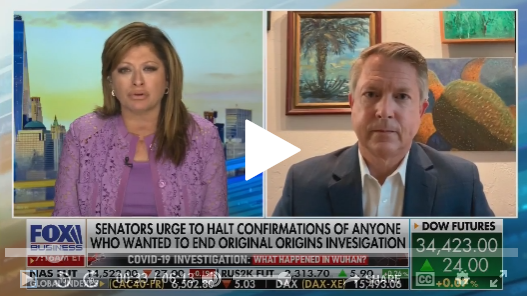 ###