ICYMI: Sen. Marshall to Sean Hannity: Why Go to Work when Joe Biden's COVID National Emergency is in Effect?
(Washington, D.C., March 29, 2023) – U.S. Senator Roger Marshall, M.D., joined the Sean Hannity Radio Show ahead of his resolution terminating the COVID-19 National Emergency Declaration passing the U.S. Senate. The Senator also provide an update on his investigation into the origins of COVID-19.
You may click HERE or on the image below to listen to Senator Marshall's interview.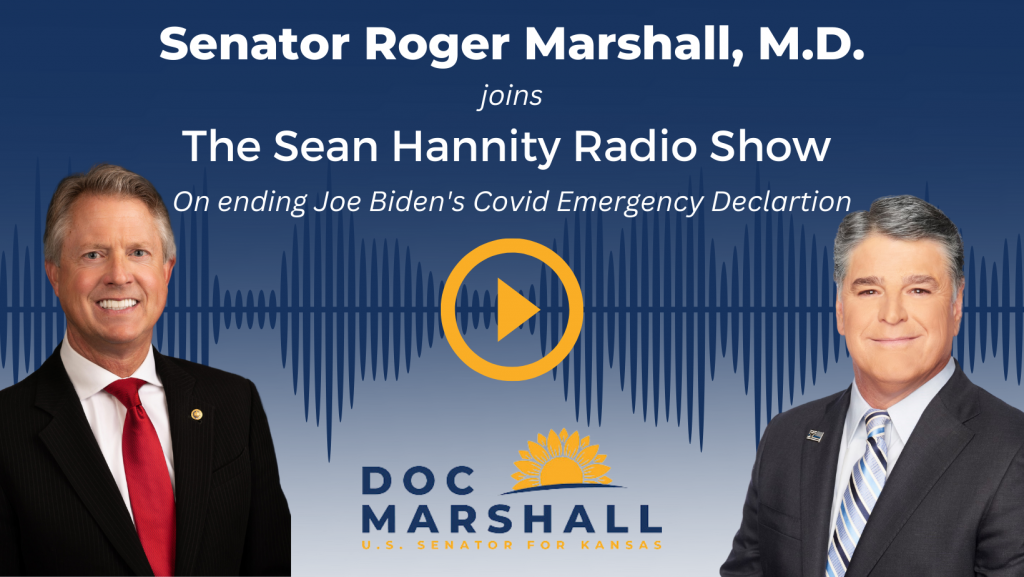 Highlights from Senator Marshall's interview include:
On ending the COVID-19 national emergency declaration:
"Joe Biden has used this emergency declaration for vaccine mandates, for mask mandates, to close our schools, he closed our businesses, and as you said, also to help pay for student loans as well. This was authoritarian power."
"Even last September, Joe Biden on a CBS 60 Minutes interview said, 'the pandemic is over.' So why is it still in effect then? So, we're going to get this across the finish line, we will see if the president will sign it."
"This is the third time the Senate has voted on it. We passed it a year ago. Over a year ago the Senate voted in favor of this."
"At the end of the day Sean, we still have 7 million able-bodied American men between the ages of 25 and 45 that aren't working…they're getting free health care, getting food stamps, along with their rent is being paid, their energy bills are being paid, their student loans are being paid, why would you go to work when Joe Biden's emergency is in effect?"
On his investigation into the origins of COVID-19:
"There is a preponderance of evidence that we can present if given the opportunity. We've looked at over 50,000 documents investigating this. All the evidence points towards funding of this gain-of-function research."
"EcoHealth received over $150 million from ten different government agencies. We found that even some of that was being double funded. The same scientist, who was one of the early people to get COVID themselves, was being double funded from the NIH, as well as USAID. We're getting close to being able to take all that public."
###