ICYMI: Senator Marshall Delivers Floor Speech on Bipartisan Health Care Bill
Washington, D.C. – Today, U.S. Senator Roger Marshall, M.D. delivered a floor speech to announce he is leading bipartisan legislation that addresses health care worker shortages and expands access to primary care through Community Health Centers. Working with Senator Bernie Sanders (I-VT), this bill bolsters our nation's effort to provide access to quality care through robust investments in prevention and a health care workforce that meets today's demand.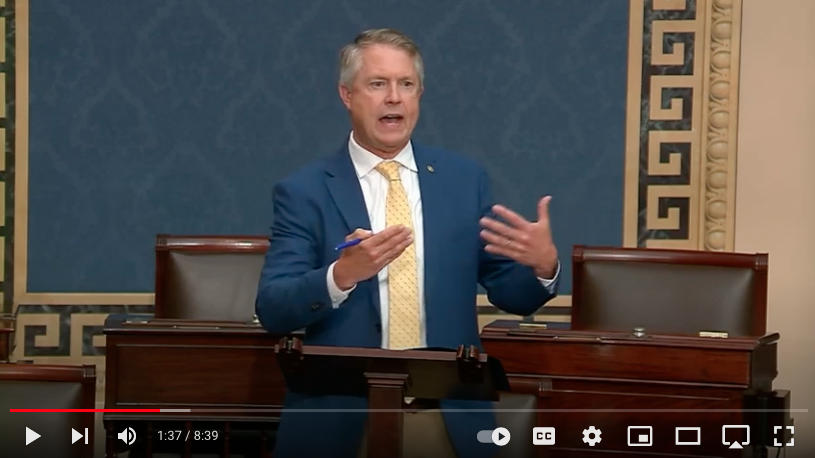 You may click HERE or on the image above to watch Senator Marshall's full remarks.
Highlights from Senator Marshall's remarks include:
"One of my mentors here on the Hill has a saying that some Senators come here to make a point, and others come to make a difference. The first time Senator Sanders and I sat down together, he said, Roger, do you want to make a difference? We have worked so hard on this issue together, developing rapport… our staff, they've all done an incredible job, as we try to get through this riddle of health care challenges across this great nation."
"[The] 'meeting patients where they are' concept, integrating all the different elements of primary care, not just your blood pressure, not just your your Accu-check, but also your mental health, dental needs, as well – these are just a few more things that we're seeing being integrated into the Community Health Centers, nutrition coaching, something that's seldom been done in clinics before. So I think we saw these Community Health Centers are doing a great job."
"And certainly, I think most of our committee would agree that the Community Health Centers are a great solution. But they need to be bolstered and need to continue that mission across this great nation. So I'm proud of the work that we've done on the Community Health Centers in this legislation, again, thoughtful legislation. And our goal was to make sure that doesn't cost the American taxpayer any more, again, Senator Sanders, I have both said many times, this country is spending plenty of money on health care, but maybe we need to refocus a little bit more of it to primary care."
"I think the other big issue that we found in common with folks back home is a nursing shortage and a primary care doctor shortage. If there's one thing that this bill would do, it would turn around the nursing crisis in a matter of just three years."
"90% of the nurses in our hospitals in Kansas, especially the rural hospitals, are two year community college graduates. So what we've done with this legislation is bolster more money for nursing programs. And the other program like Senator Sanders said, or the other challenge is colleges cannot afford the faculty, the nursing faculty. So we have some money to help bolster that program up as well. We have young men and women standing in line for incredible jobs in health care, but we don't have the faculty to bring them in."
"So we help with scholarships, we help with the faculty, that alone will change the dynamics across America if we have more nurses, who are just the glue to this health care system, and then the next challenge that we attack here is a shortage of primary care doctors… The legislation addresses that, It's a great step forward."
"Most important to me, the physician, this is the right thing to do. This is absolutely the right thing to do. It's a chance to improve the health of Americans…"