ICYMI: Senator Marshall Joins KQAM Radio To Discuss Support for Israel and the Worsening Border Crisis In the U.S.  
Washington, D.C. – U.S. Senator Roger Marshall, M.D. joined KQAM radio to discuss his support for Israel following the deadly attacks by Hamas terrorists. Senator Marshall also expressed frustration with the Biden Administration's push to leverage aid for Israel with billions of more dollars for Ukraine. Senator Marshall addressed the worsening border crisis as well.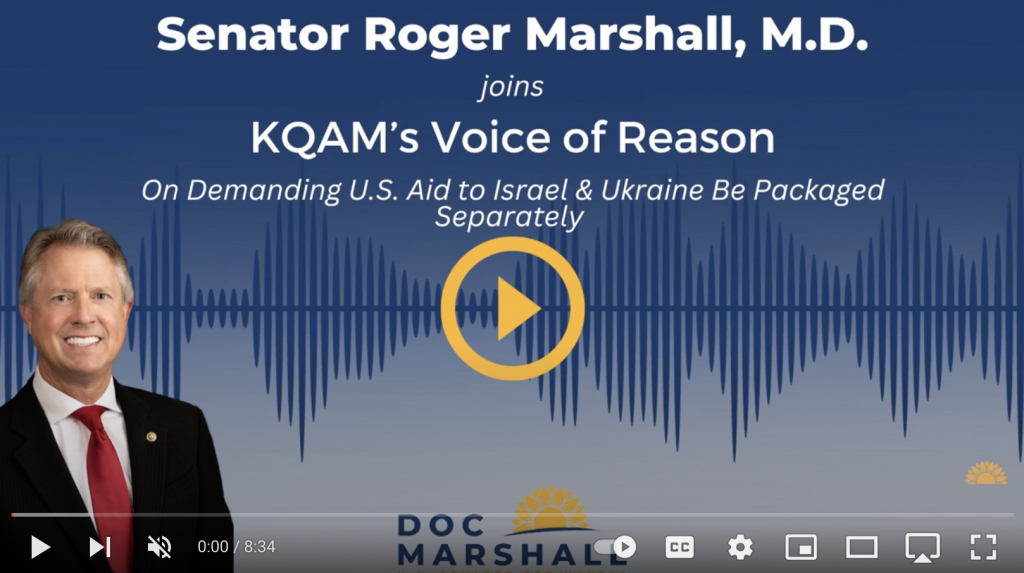 You may click HERE or on the image above to listen to Senator Marshall's full interview.
Highlights from the interview include:
On the attacks on Israel from Hamas terrorists:
"Since my earliest beginnings, my mom, my Sunday school, top school teachers taught me to support Israel, I think it's the right thing to do. We were raised on our Judeo Christian values, that we should stand with Israel. And there is such a big difference between what's going on in Israel versus Ukraine, Ukraine is a seven, nine, ten year war. America will spend, you can count it, a trillion dollars over the next decade going forward, and probably still with the same situation, and tens of thousands of lives will die. Meanwhile, in Israel, we all saw this brutal savage attack by this Hamas 'Army of Terror.' And what we have there is a battle, a war between the people of Israel and Hamas. And this isn't a battle just for Israel. But this is a battle for the future of humankind."
"Since October 7, the blood of every person belongs on the hands of Hamas and Iran. They're the ones that are putting weapons in schools or putting weapons in hospitals. They're bombing their own hospitals and trying to to win this messaging war and blame it on the Israelites."
On the Biden Border Crisis:
"As usual, the President's legislation is dead on arrival. Where do we start, there's funding in it that actually make the border less secure. He has funding that's going to actually make it easier for people to ask for asylum and get processed as well."
"Of course, there's 8 million people that have crossed our border illegally under Joe Biden. 8 million people, that's almost three times the population of Kansas. And I'm not sure if you and your listeners saw this number leaked from the Border Patrol, but over the past two years, 60,000 people of interest, is what they call them, from the Middle East, from Afghanistan and Turkey, and Iran and Syria. 60,000. And on top of that, throw in another 20,000 Chinese Nationalists. So when people ask me, are you concerned about Ukraine? I got to sit there and say, well, look, I'm much more concerned about my own southern border, and what 80,000 people can do with tariffs in our own nation."