ICYMI: Senator Marshall on Fox Business: The Border Crisis is Out of Control 
Washington, D.C. – U.S. Senator Roger Marshall, M.D. joined Varney and Co on Fox Business to discuss the historic border crisis and the Biden Administration's failure and lack of accountability in securing our homeland.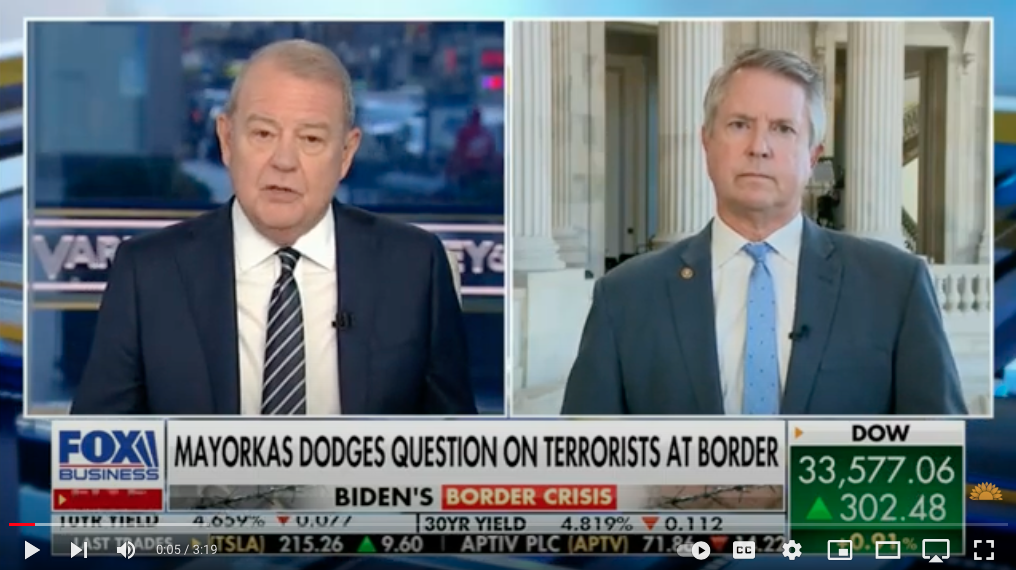 You may click HERE or on the image above to watch Senator Marshall's full interview.
Highlights from Senator Marshall's interview include:
On Sec. Mayorkas dodging Senator Marshall's questions during Senate Homeland Security Committee:
"Well, what we did learn is that there were 600,000 gotaways encountered at our border last year. 600,000 people came across our border, we have no idea who they are, where they're from, if they were criminals, if they're on the terrorist watch."
"So the Secretary is lying to the American public there, he has no idea who these people are, and where they are…We don't know if they released them, we know for sure that they caught 180 people on the known terrorist watch and another additional 60,000 Aliens of interest. So our borders are out of control."
"And this is why Americans, including Kansans, are scared. They're concerned about their own safety and security."
"But there's hope now, we have a new sheriff in town over on the House side, Speaker of the House Mike Johnson. I met with him yesterday, he talked about how after we fund Israel, his next priority is securing the border."