New Marshall Bill Fights Biden Administration Attacks on 2nd Amendment
(Washington, D.C., September 29, 2022) – U.S. Senator Roger Marshall, M.D. has introduced the Stop Harassing Owners of Rifles Today (SHORT) Act, new legislation that protects American citizens' 2nd Amendment Rights from the Bureau of Alcohol, Tobacco, Firearms and Explosives' (ATF) proposed registry for firearms with stabilizing braces. In the House of Representatives, U.S. Congressman Andrew Clyde (GA-09) introduced an identical bill.
"The ATF's federal gun registry is just the latest proof that the Biden Administration has no understanding of firearms and only seeks to limit American citizens' ability to rightfully own firearms of their choosing," said Senator Marshall. "Gun control activists disguised as bureaucrats are corrupting the ATF, and my legislation will put a stop to their extremely misguided and incorrect interpretations of the National Firearms Act."
"As stewards of the Constitution, Members of Congress cannot allow President Biden to further trample on Americans' Second Amendment liberties through the continued weaponization of the NFA. By deregulating these NFA firearms, this legislation prohibits the ATF from enacting an unconstitutional pistol ban through a simple rule change — safeguarding the Second Amendment and preventing Americans from being subjected to the Biden Administration's tyrannical, gun-grabbing tactics. I'm proud to partner with Senator Marshall in leading the fight to protect Americans' unalienable, constitutional right to keep and bear arms against President Biden's relentless attacks on law-abiding gun owners," said Congressman Clyde.
Upon introduction, Senator Marshall's SHORT Act received endorsements from both the Gun Owners of America and the National Rifle Association.
"Senator Marshall's legislation will repeal elements of the archaic National Firearms Act, which the Biden ATF is using to justify their pistol ban and "amnesty registration" plan — a policy change that will affect millions of law-abiding gun owners and do nothing to curb rising crime. GOA is proud to support the Stop Harassing Owners of Rifles Act, which will protect gun owners and halt these anti-gun infringements," said Gun Owners of America's Director of Federal Affairs Aidan Johnston.
"Sen. Marshall's bill protects the right of law-abiding Americans to choose the firearm that best suits their individual needs without fear of punitive taxes, needless registration, or arbitrary reinterpretations of settled law. The NRA applauds his leadership in introducing these logical and much-needed reforms," said National Rifle Association-Institute for Legislative Affairs Executive Director Jason Ouimet. 
Senators John Boozman (AR), Mike Crapo (ID), Steve Daines (MT), Cynthia Lummis (WY), and James Risch (ID) are original cosponsors of Senator Marshall's legislation.
The Daily Caller wrote an exclusive story on Senator Marshall's SHORT Act upon introduction. You may click HERE or on the image below to read the story.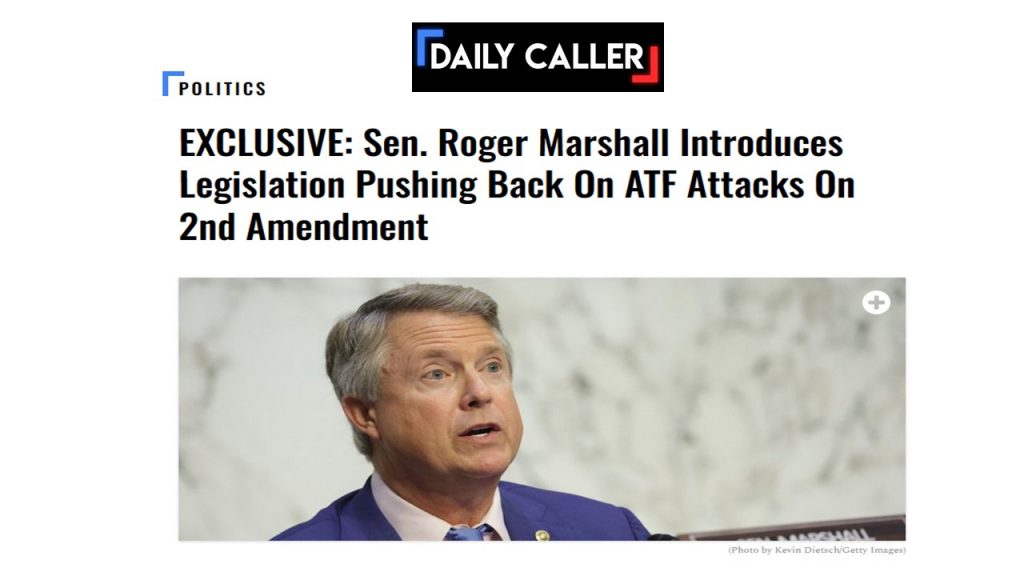 Background on the SHORT ACT:
Senator Marshall's bill will remove the unconstitutional taxation, registration, and regulation in the draconian National Firearms Act (NFA) of firearms such as Short Barreled Rifles (SBR), Short Barreled Shotguns (SBS), and Any Other Weapons (AOW).
Senator Marshall's bill is needed to push back against the Biden Administration's attacks on millions of gun owners with his attempted ban on certain pistols through an ATF rule change.
Using the NFA, the Biden Administration is pretending people who own pistols with stabilizing braces in fact possess illegal short barreled rifles. ATF is using this excuse to facilitate a ban, forcing gun owners to violate their rule or participate in an unconstitutional "Amnesty Registration of Pistol Brace weapons," in order to keep their own firearms.
The only way to protect gun owners from the Biden Administration and ensure the ATF does not enact this rule (or any future version of it) is by deregulating NFA firearms through the elimination of unconstitutional and unnecessary restrictions, taxation, and registration placed on NFA firearms in 1934.
Short-Barreled Rifle Deregulation:
• An SBR is a rifle that has a barrel length less than 16 inches or an overall length less than 26 inches.
• SBRs, along with SBSs and AOWs, are not any more dangerous than any other firearm.
• The ATF reports that there are over 532,000 registered SBRs as of May 2021.
• SBRs include many rifles but the most popular SBRs are variants of the AR-15.
• Under ATF Proposed Rule 2021R-08, any rifle with a stabilizing brace would de facto be designated an SBR and thus be subject to all NFA Regulations. This means the Biden Administration may be registering, taxing, and regulating as many as 40 million lawfully purchased pistols without the passage of a new law.
Short-Barreled Shotgun Deregulation:
• An SBS is a shotgun that has a barrel length less than 18 inches or an overall length less than 26 inches.
• The ATF reports that there are over 162,000 registered SBSs as of May 2021.
• Additionally, Sen. Marshall's legislation would remove the unconstitutional "sporting use" requirement for shotguns, which allows ATF bureaucrats to arbitrarily regulate certain shotguns like explosives.

Any Other Weapon Deregulation:
• An AOW is an ambiguous catch-all term for firearms that do not fit neatly into the provided definitions. Without removing this definition, the ATF could abuse this statue to justify another ban on pistols. This is a crucial provision to end the attack on American's Second Amendment rights.
• The ATF reports that there are over 67,000 registered AOWs as of May 2021.
Record Destruction:
• Additionally, the legislation would require the ATF destroy all records relating to the registration, transfer, or manufacture of these NFA firearms, preventing the ATF from further harassing owners or confiscating these firearms. Gun registration always leads to gun confiscation.
###