Sen. Marshall Applauds FDA Committee for Prioritizing Seniors in COVID Booster Rollout
(Washington, D.C., September 17, 2021) – U.S. Senator Roger Marshall, M.D. today issued the following statement on the heels of the U.S. Food and Drug Administration's (FDA) Vaccines and Related Biological Products Advisory Committee unanimously approving COVID-19 booster shots for seniors and those at high risk. This announcement by the FDA follows a letter sent by Senator Marshall to U.S. Department of Health and Human Services Secretary Becerra and FDA Acting Commissioner Janet Woodcock, urging them to prioritize research on the effectiveness of booster shots for vulnerable patients as well as a letter to President Joe Biden calling on him to make ALL seniors eligible for COVID-19 vaccine booster shots immediately.
"With the Delta variant ripping across the U.S., I applaud today's FDA decision. Science has shown us that seniors and those with compromised immunities are among the highest risk for severe infection and death as they may not generate a sufficient level of protection from the current two-dose regimen," said Senator Marshall. "As each day passes, so increases the risk of exposure for individuals with an insufficient level of protection getting infected. This Administration must not wait one more day to increase seniors' immunity to this virus."
Background:
Data out of Israel shows a COVID-19 booster shot improves immunity for senior citizens. According to the Wall Street Journal, "Israel was one of the first countries late last month to authorize a third Pfizer dose for the elderly who were fully vaccinated with the recommended two shots, after indications that vaccine protection against severe illness has waned. The booster shot reduced the risk of infection in the 60-plus age group by 86% and against severe infection by 92%, according to an observational study by Israel's second largest healthcare provider, Maccabi Health Services, released Wednesday."
In January 2020, then Congressman Marshall was the first member of Congress to sound the alarm on the House floor about the spread of COVID-19. As a physician, he would later go on to serve on the frontlines as a volunteer treating patients in Wyandotte County and Seward County.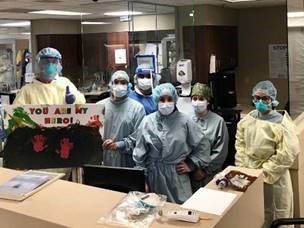 In April 2021, Senator Marshall led a group of doctors and other health care providers in Congress in launching a public service campaign to boost COVID-19 vaccine participation. You may click HERE or on the image below to watch the PSA.
Senator Marshall also penned an op-ed urging the National Institutes of Health and the FDA to prioritize testing that would identify a patient's level of immunity to COVID-19 by measuring t-cells.
###