Sen. Marshall Blasts Gov. Kelly for Kids' Mask Mandate
(Washington, D.C., August 2, 2021) – Today, U.S. Senator Roger Marshall, M.D. issued the following statement blasting Kansas Governor Laura Kelly's call for children to wear masks for the upcoming K-12 school year:
"This is a time for Governor Kelly to put politics aside, listen to science, and apply common sense. Real world science shows us this virus disproportionately impacts senior citizens and those with underlying health conditions – not healthy children. In fact, to our knowledge, not a single child has died from COVID unless they had a severe underlying health condition," said Senator Marshall. "These anti-science, inconsistent mask mandates by bureaucrats and politicians are punishing children, those who have been fully vaccinated, and those who have already had COVID. Data proves that mask mandates have little if any benefit, especially for school children, who are constantly putting their mask on and off, touching their face, wiping off sweat and dirt, and more. Our children should not be forced to wear masks for the upcoming school year and must be able to get back to in person learning."
Background:
In April, Senator Marshall led a group of Republican doctors and other health care providers in Congress to launch a public service campaign to boost COVID-19 vaccine participation saying in part, "Operation Warp Speed brought us safe and effective vaccines in record time… The FDA did not skip any steps. Instead, they cut bureaucratic red tape – not corners – and they got the job done in record time… The beauty of living in this great nation is however, that we have the option to choose whether or not we get vaccinated. When the time comes for you to make that decision, talk it over with your doctor or your pharmacist and consider their recommendation… I hope you'll join me, along with over 100 million Americans, in choosing to receive the vaccine so we can throw away our masks and live life as free as we did before." You may click HERE or on the image below to watch the PSA.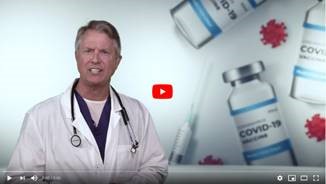 ###