Sen. Marshall: Deeply Concerned with the Vaccine Distribution Efforts in Kansas
(Washington, DC, March 4, 2021) – U.S. Senator Roger Marshall, M.D. questioned Kansas Department of Health and Environment (KDHE) Secretary Lee Norman yesterday on a video conference regarding vaccine distribution efforts in the state. Troubling reports out of Kansas recently highlighted the disparities saying, "About 4.8% of Black Kansans have gotten vaccinated against COVID-19… a figure that is half the vaccination rate for white residents, roughly 10% of whom have gotten their shots. About 4% of the state's American Indian population and 5% of Asian-American residents have gotten their vaccine, according to the numbers, which were publicly disclosed Friday for the first time. Around 7% of those who identify as Hispanic or Latino have been immunized." Additionally, as of yesterday, the CDC ranks Kansas 46th for distribution of the COVID-19 vaccines.
 "Whether it is the disparity amongst various communities or the fact that our state ranks 46th for doses administered, I am deeply concerned with the vaccine distribution efforts in Kansas," said Senator Marshall. "What your background is, where you live, or your income should never be a barrier to receiving a COVID-19 vaccine. From day one, I have supported efforts to ensure all Americans that want a vaccine can have a vaccine at no cost.  It is only through outreach to all communities and inclusion of all Americans that we will reach herd immunity by April or May and truly defeat this virus once and for all."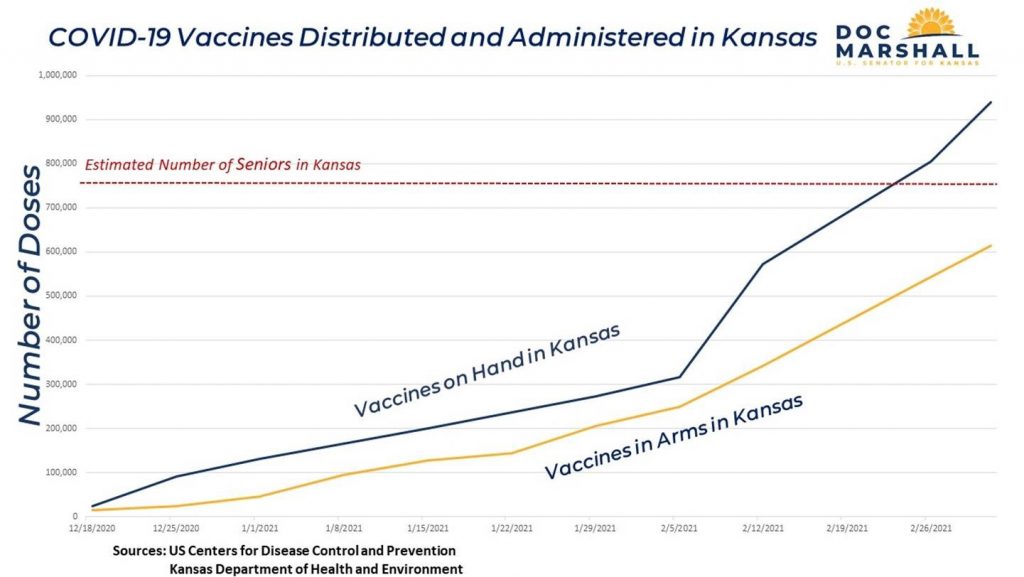 Background:
Since the start of the COVID-19 pandemic, Senator Marshall has been focused on ensuring equal access to testing, treatment, and the vaccine – regardless of race, age, income, and zip code. On the call, Senator Marshall also encouraged Secretary Norman to engage the state's community health centers (CHCs) more as they are well-positioned to help close the disparity gap and reach underserved populations.

While in Wichita last week, Senator Marshall toured HealthCore Clinic, a CHC that provides physical and mental health care to Wichita's underserved population. During the visit, the Senator and HealthCore staff discussed ways the center was working to better serve minority populations including outreach and education on preventative measures, available treatment, and the COVID-19 vaccines that have received Emergency Use Authorization from the U.S. Food and Drug Administration.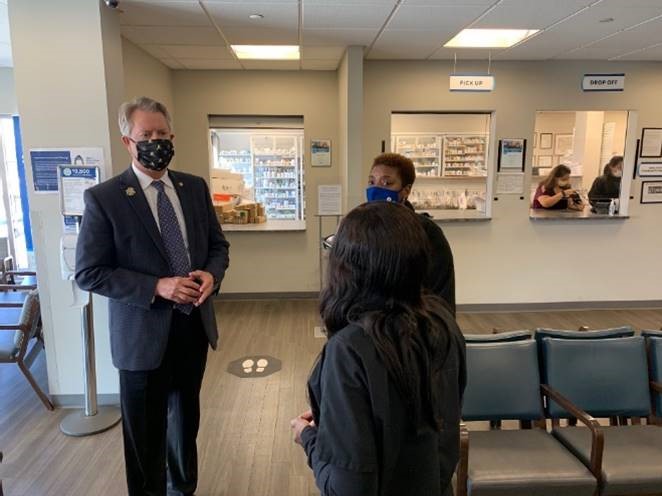 CHCs provide affordable, high-quality primary health care to their local community and also aim to reduce racial and ethnic disparities. Given their success in delivering comprehensive primary care, CHCs have also called upon to support various public health initiatives including the opioid crisis, chronic disease management, and the response to the COVID-19 pandemic.
Last year, Senator Marshall volunteered at a CHC in Wyandotte County, working with minority and low-income populations in need of testing and care for COVID-19, and has toured testing and vaccine facilities in the Kansas City region, aimed at serving minority populations.
The Health Resources and Services Administration (HRSA) launched the Health Center COVID-19 Vaccine Program and will ship vaccine doses directly to CHCs, as part of their commitment to ensure equity in vaccine distribution. Two CHCs in Kansas are part of the initial phase – one received doses yesterday and is administering them today. A second clinic will receive their direct shipment on Monday. HRSA plans to expand the program to other CHCs in the very near future.
As a member of the House of Representatives, Senator Marshall was a cosponsor and supported the passage of the $2 trillion CARES Act – legislation that included $1.32 billion in supplemental funding for CHCs on the front lines of testing and treating patients for COVID-19. He also supported the passage of the Consolidated Appropriations Act, 2021, which continued funding for CHCs and allowed them to grow their services. The bipartisan package also included Senator Marshall's legislation authorizing a public advocacy campaign to promote COVID-19 vaccine participation and providing science-backed information.
###