Sen. Marshall Discusses COVID Origins with Maria Bartiromo
(Washington, D.C., September 17, 2021) – U.S. Senator Roger Marshall, M.D. appeared on FOX Business this morning to discuss the Origins of COVID-19 with Maria Bartiromo. The Senator said in part,
"We did a timeline that takes us back to September of 2019 when Dr. Shi took a genetic lab bank offline, and that was the first part of the cover-up… What we need is all of Congress on multiple committees to take a deep dive into this. Why the Democrats don't take this serious, I don't know… There is a preponderance of evidence out there that would support this was leaked from a laboratory in Wuhan and most likely was made there as well. And, we just have to bring this to light – we have to have a whole world approach to it as well… We need the Ecohealth system – which was funded by Dr. Fauci and the NIH to show us their genetic sequences…"
You may click HERE or on the image below to watch the Senator's interview.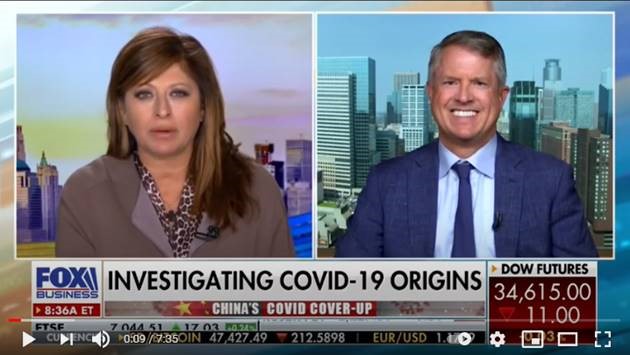 Background:
Yesterday, Senator Marshall joined Senators Chuck Grassley (R-Iowa) and Marsha Blackburn (R-Tenn.) in sending a follow-up letter to the National Institutes of Health (NIH) demanding answers to questions that may shed light on data relating to the origins of the COVID-19 pandemic and NIH's COVID-19 data retention policies. This push for answers comes amid reports that Chinese researchers requested some data be deleted from NIH-controlled databases. In part, the senators wrote "[o]n June 28, 2021, we wrote to you requesting answers to seven questions pertaining to the NIH's role and responsibility with respect to the Sequence Read Archive (SRA) relating to COVID-19 data. On September 8, 2021, your office provided a response that failed to fully and completely answer all seven questions and failed to provide the requested records."
Last week, Senator Marshall released a multi-step path forward on getting to the bottom of the origins of COVID-19 and holding China accountable for its actions surrounding the earliest days of the outbreak. While Senator Marshall's 8-point path forward is below, you may click HERE for a more detailed version.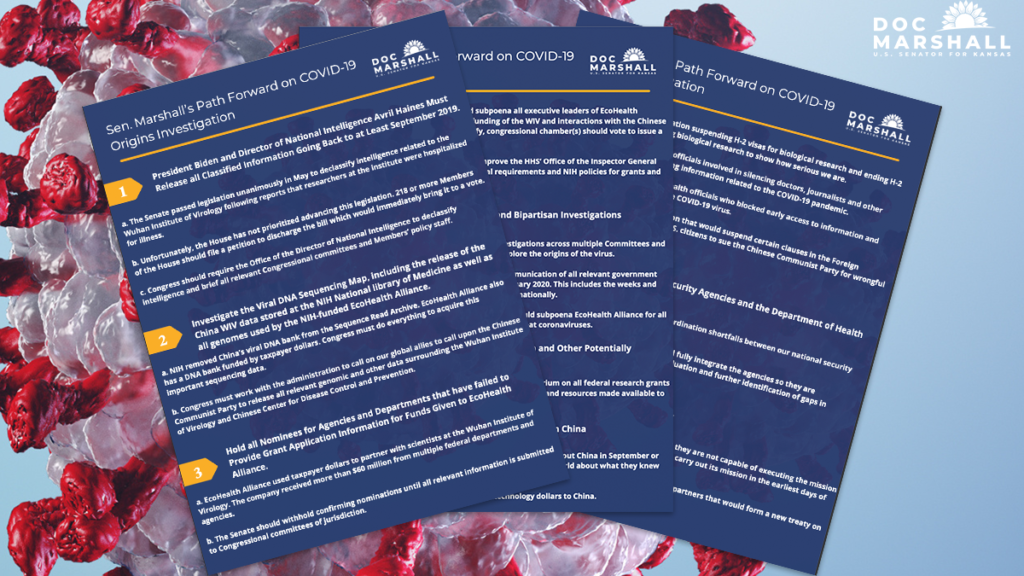 Senator Marshall has been leading the fight in the Senate to get to the bottom of the origins of COVID-19. In fact, recently, he partnered with Senator Kirsten Gillibrand (D-NY) to hold the first joint bipartisan Senate briefing on the origins of COVID-19 following the passage of their bipartisan resolution that calls for a transparent investigation into the outbreak of the virus. The bipartisan resolution also demands a full, transparent investigation to include the U.S. and its allies and partners around the world if China continues on its path of cover-up and obfuscation.
In August, Senator Marshall released a video walking viewers through a 3D timeline of the origins of COVID-19. You may click HERE or on the image below to watch the video.
You may click HERE or on the image below to view Senator Marshall's COVID-19 origins timeline as an image.
In June, Senator Marshall wrote to the Department of Health and Human Services (HHS) demanding answers on possible COVID-19 infections of U.S. Army troops who participated in the 2019 World Military Games that took place in Wuhan, China from October 18-28, 2019. Following completion of the games, athletes from numerous participating countries reported experiencing symptoms similar to those associated with COVID-19.
Senator Marshall has penned several op-eds on COVID origins. You may click on the links below to view them:
In January 2020, then Congressman Marshall was the first member of Congress to sound the alarm on the House floor about the spread of COVID-19. As a physician, he would later go on to serve on the frontlines as a volunteer treating patients in Wyandotte County and Seward County.
###