Sen. Marshall Emphasizes Good Nutrition During Hearing on Food is Medicine
(Washington, D.C., December 13, 2022) – U.S. Senator Roger Marshall, M.D. offered remarks today during a Senate Ag Committee hearing about how good nutrition leads to positive health outcomes for Americans, and using public policy to achieve those outcomes. Senator Marshall outlined several of his bipartisan initiatives aimed at advancing towards that goal, including legislation with Senator Debbie Stabenow (D-MI) that would establish a medically-tailored meals pilot program under Medicare, legislation with Senator Cory Booker (D-NJ) that would pilot a food box program for patients enrolled in Medicaid, and initiatives with Senator Gillibrand (D-NY) that strengthen the use of dairy products across various USDA programs. He also submitted research for congressional record demonstrating how medically-tailored meals reduced hospital admissions for low-income adults with complex medical conditions.
While you may click HERE or on the image below to watch Senator Marshall's full remarks, on the relationship between public health care programs and nutrition, he said in part,
"…As we think about nutrition I can't help but to think about Medicare and Medicaid…What would be the impact of good nutrition on Medicare and Medicaid…The readmission rate for Medicare patients sent home with 10 tailored meals per week was 20%…The average cost for a Medicare admission is $13,000, so if there was 80% less of those [admissions], how could that be used to fund good nutrition? Maybe making an investment of four or five hundred dollars to save taxpayers $13,000…I think that is a great concept…Sending them home from the hospital with medically tailored meals…"
On reintroducing whole milk into school lunch programs, Senator Marshall said in part,
"…We're going to have a generation of women who are going to have osteoporosis and osteopenia in their 40s rather than their 50s because they're not drinking milk at school…"
On the Food and Nutritional Service's (FNS) recent recommendations for non-diary substitutes to the Special Supplemental Nutrition Program for Women, Infants, and Children (WIC), Senator Marshall said in part,
"…The WIC program is near and dear to me. It is something my patients used every day. I think this is contrary to the recommendations of increased consumption of dairy products in the dietary guidelines for Americans…I'm concerned about meatless Mondays and the impact of less protein in peoples' diets as well…I hope we don't forget we need to be able to absorb the fat soluble vitamins somehow…For pregnant women especially, those vitamins A, D, E and K are very important…"
Senator Marshall closed his remarks by saying, in part,
"…Most of us know what a healthy diet looks like and we can make that more accessible…Changing to a healthy lifestyle is where it tends to break down…Dealing with pregnant women is probably the only time when I saw huge lifestyle changes…The WIC program is so involved in that…How do we take that concept and expand it…"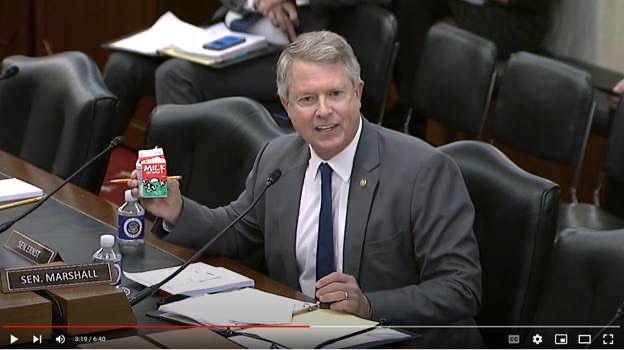 Senator Marshall has worked on the Food is Medicine initiative throughout his career as a practicing OBGYN and Member of Congress. Before joining the Senate, he co-founded the Food is Medicine Working Group in the U.S. House of Representatives and introduced bipartisan legislation to improve patient outcomes and lower health care costs through this concept. He also successfully advocated the previous Administration to launch a ten-year strategic plan for nutrition research at the U.S. National Institutes of Health (NIH). The initiative recognizes nutrition for maintaining health and preventing a wide range of diseases, and requires the agency to coordinate efforts across its various institutes and centers. 
###