Sen. Marshall Introduces and Questions Kansan Shawn Tiffany at Hearing on Cattle Markets
(Washington, D.C., April 26, 2022) – Today, at Senate Agriculture Committee hearing, U.S. Senator Roger Marshall, M.D. introduced Shawn Tiffany from Herington, Kansas who is President-Elect of the Kansas Livestock Association and co-owner of Tiffany Cattle Company. The hearing focused on two pieces of legislation pertaining to cattle markets and Senator Marshall had a chance to question Shawn on the negative implications of moving forward with the bills. Senator Marshall believes that a bill mandating negotiated cash sales is not the answer and will only restrict the way Kansas cattle producers market their cattle. You may click HERE or on the image below to watch the Senator introduce and question Shawn.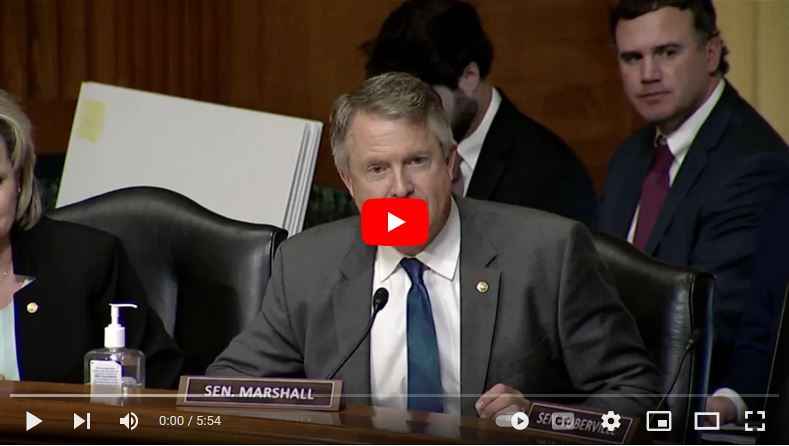 Senator Marshall also spoke at the hearing about his concerns with consolidation of the industry. He believes the cause was overregulation and the solutions are eliminating burdensome regulations, more accurate labeling of beef, and allowing interstate shipments of state inspected meat. You may click HERE or on the image below to watch Senator Marshall discuss these concerns.
Background:
In July, Senators Marshall and Mike Rounds (SD), as well as Representatives Jason Smith (MO) and Dusty Johnson (SD), introduced the Feed America by Incentivizing Rural (FAIR) Meat Packing Act to ensure a level playing field for our nation's cattlemen and to return to fair prices for both cattlemen and consumers. The FAIR Meat Packing Act creates two tax incentives to facilitate the formation of small- and mid-sized meat processing facilities allowing cattle producers to compete for better prices in the marketplace.
In January, Senator Marshall introduced the Bona Fide Beef Branding Act to help ranchers distinguish their product in the meat case in grocery stores nationwide. This legislation would direct the U.S. Depart of Agriculture (USDA) to eliminate the "Product of the USA" meat label and instead create three new voluntary labels to address consumer confusion.
ICYMI: Senator Marshall is focused on cattle market reform (RFDTV) Sen. Roger Marshall, an outspoken member of the ag committee, shares his top priorities to put producers in the driver's seat. On the hill, there are several legislative efforts underway to support the livestock industry. Kansas Senator Roger Marshall says that he is working to address transparency in the cattle market. According to Sen. Marshall, "What we have to be careful about is overcorrecting. What I don't want to do is drive the prices down, and I'm afraid if we overcorrect if we get the government too involved, if we rely upon the USDA to set prices and quotas, it could end up having a negative impact. So, that's the last thing I want to happen. I think we need to keep emphasizing transparency, and I think we need to keep emphasizing growing the businesses, those small businesses to do more packing plant, and do more meat processing." Marshall says that he has not seen a "silver bullet" piece of legislation yet… In the meantime, Sen. Marshall says that he is focused on creating more options for producers: "We certainly need more capacity and it seems like online over the next two years, we're going to increase the capacity, maybe 3-4 percent. So, that's the good news! We want it to continue to be consolidated with just four factory plants, so that's the bad news. So, my job is to do everything I can to help lower those barriers to market for some of those small packing plants and make it more feasible for them to do business and get my producers more options."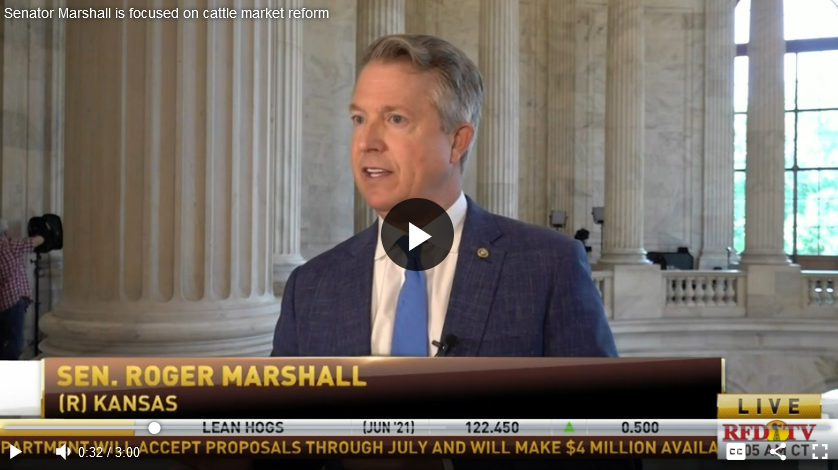 ###