Sen. Marshall on Biden's Budget: This is Voodoo Accounting
(Washington, D.C., March 15, 2023) – Today, U.S. Senator Roger Marshall, M.D. questioned Shalanda Young, the Director at the Office of Management and Budget today during the U.S. Senate Budget Committee hearing on Biden's reckless spending and the Administration's proposed Fiscal Year 2024 Budget.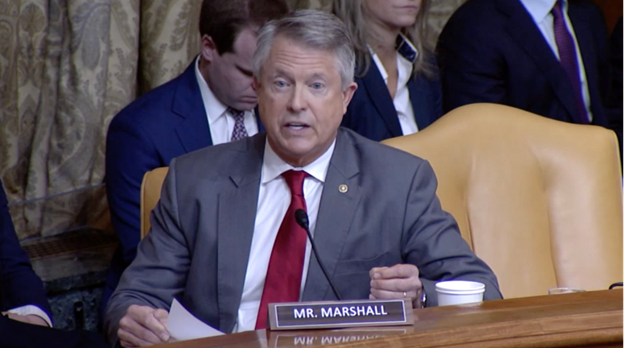 Click HERE or on the image above to watch Senator Marshall's full remarks.
Highlights from his remarks below:
On the national debt:
"I'm fearful the White House is using the same 'voodoo accounting' that brought down SVB bank."
"The greatest long term threat the United States faces is our national debt. At $31 trillion and growing, paying almost $500 billion in interest last year alone, this national debt is unsustainable."
"For two years Democrat one-party rule has controlled Washington, D.C. and ran up the tab on the backs of hardworking Americans."
"In the first 20 months of office, President Biden has spent more than any other president in United States history. This reckless spending agenda has added another $3.7 trillion to the debt, a 13% increase and costs hardworking families in the wave, a 40-year high skyrocketing inflation, which we all know is a tax on hardworking Americans."
On raising the debt limit:
"There is historical precedent for coupling spending reductions with increasing the debt limit. For the sake of my children and grandchildren, I will hold the line."
"The President will not get permission from me to increase the debt limit without real substantive cuts to our spending. I hope the members of this committee will join me."
Questioning OMB Director Shalanda Young:
Senator Marshall: "Director Young. Does this administration have any intention of negotiating in good faith with Republicans to stop this reckless spending and get back to balancing the budget? Yes or no?"
Shalanda Young: "Senator, I've been here. This is my third year on the budget. There's a budget process. There's an appropriations process. We work together every year to fund the government and talk about spending hard. We are happy to do that again this year."
Senator Marshall: "Yes or No? Will this president work in good faith towards negotiating a budget that gets back to a balanced budget?"
Shalanda Young: "As he has done in December he will work in a bipartisan basis to talk about what the appropriate spending levels are."
Senator Marshall: "That doesn't sound very optimistic to me. How do you intend to do that when you know our goals and you bring us a budget that's a month late and has the highest sustained levels of taxes, spending, and deficits in American history?"
Shalanda Young: "Senator, let me be clear, the President is not going to support cutting programs that are essential to working families in this country…"
Senator Marshall is asking for cooperation from the Biden Administration to work with Republicans to get to a BALANCED budget. The OMB Director confirmed today that this Administration will not make cuts to the programs they deem essential to working families.
President Biden's spending priorities outlined below are not what hardworking Americans believe are essential to working families:
Requests $2 billion for the Bureau of Alcohol, Tobacco, Firearms, and Explosives to "increase regulation of the firearms industry" amongst other directives.
Proposes $512 million at the Department of Health and Human Services, for the Title X Family Planning program which provides money for abortion services.
Requests nearly $5 billion at the Environmental Protection Agency to "address the climate crisis by: reducing greenhouse gas (GHG) emissions; building resilience in the face of climate impacts."
Requests over $3 billion for the Department of State/USAID's President's Emergency Plan for Adaptation and Resilience to "more than quadruple international climate finance."
Calls for $100 million at the Department of Education in grant funding for communities "to promote racial and socioeconomic diversity in their schools."
Includes $15 million for USDA to create the Rural Clean Energy Initiative… "to achieve the President's clean energy goals."
Calls for $20 million for the Department of Labor to partner with AmeriCorps and other agencies to create a Civilian Climate Corps to "address the climate crisis by creating service opportunities."
###