Sen. Marshall: Out-of-Control Spending Dictated by the White House Leading to Rampant Inflation
(Washington, D.C., July 14, 2021) – U.S. Senator Roger Marshall, M.D. spoke on the Senate floor today about inflation and how it is impacting hard working Americans across the country. Senator Marshall's speech comes on the heels of the Department of Labor announcing that the Consumer Price Index climbed for the third straight month, jumping 5.4 percent in June: the biggest rise in 13 years. In part Senator Marshall said,
"…make no mistake, the inflation harming checking accounts of Kansans and all Americans rests squarely on the shoulders of the socialist economic policies coming out of the White House, otherwise known as Biden-omics… It hurts everyone – but none more than our seniors and young hard working families living paycheck to paycheck… Pre-COVID, we had the greatest economy in my lifetime, that came about because we lowered people's taxes, we lowered regulations, and we lowered energy prices. Now, out of control spending dictated by the White House is leading to rampant inflation that shows no signs of stopping."
You may click HERE or on the image below to watch Senator Marshall's speech.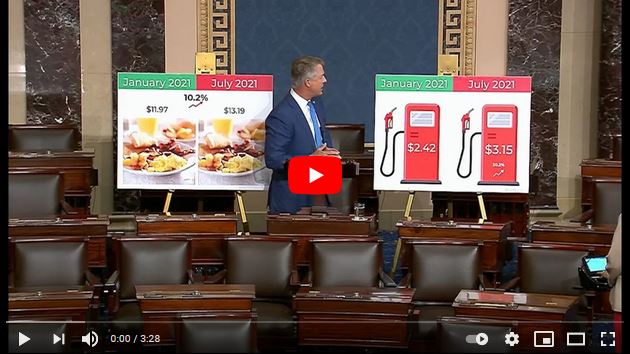 ###