Sen. Marshall Presses USDA Sec. Vilsack on Relationships with EPA, DOJ, and USTR
(Washington, D.C., March 16, 2023) – Today, U.S. Senator Roger Marshall, M.D. questioned the U.S. Secretary of Agriculture, Thomas Vilsack, during the U.S. Senate Committee on Agriculture, Nutrition, and Forestry. Secretary Vilsack is the longest serving Secretary of Agriculture in the last 100 years. Sen. Marshall addressed his concerns with the Agriculture Secretary about the EPA ignoring the USDA, the DOJ attacking the USDA, and the lack of new trade deals happening under this Administration.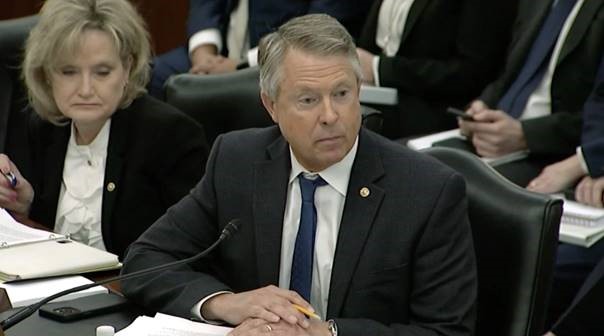 Highlights from his remarks include:
On the USDA's relationship with the EPA:
"EPA reached out to USDA for comments on Atrazine mitigation practices on March 1, 2022. I'm concerned that President Biden doesn't heed your advice. Your Office of Pest Management (OPMP) recommended EPA to add additional mitigation practices and to augment some others. In the proposed rule ultimately published by the EPA, none of the edits or suggested mitigations from USDA were involved or included. EPA similarly hasn't considered your comments on rodenticides as well as chlorpyrifos. Considering EPA is refusing to meaningfully consider USDA OPMP's comments, would you support legislative action requiring them to respond to your career experts on pesticide issues publicly in the federal register?"
"Do you feel like the EPA is listening to your experts?"
"So in order to use environmentally sound practices like no till farming which we've been doing for over 20 years on our family farm, we have to have use of these pesticides otherwise we're going to have to go back to plowing which creates an increased carbon footprint. Do you feel like EPA is balancing this issue of carbon footprint? So they're using their practices, we're going to have to plow the ground, which we know is a huge carbon sink. What are they saying?"
"I'm concerned that the EPA refuses to recognize your expertise. I'm concerned that the DOJ is attempting to discredit your scientists and career staff that have dedicated their lives to serving agriculture. Good news, with the building of the 2023 Farm Bill we are in a unique position to help your voice be heard and to ensure farmers have the predictability they deserve." Senator Marshall said.
On the DOJ attacking the USDA:
Senator Marshall asked, "Before the Eighth Circuit, attorneys for the Justice Department suggested that USDA are not experts on the uses of pesticides. They used this argument to try to convince the Eighth Circuit judges to ignore a letter you sent to former Representative Hartzler and members of Congress standing by the science of pesticides. Specifically, as your department is working with USTR to end the GMO corn ban by Mexico, do statements like these harm your efforts to advocate for American farmers?"
On the Credit Commodity Corporation:
"About a year ago we sent a letter to the GAO with our farmers' concerns. These are not my concerns, these are my farmers' concerns about the way the USDA has been using the CCC. While I'm still waiting on the response, I'm worried that the Farm Bill negotiations will be hindered, especially if you believe that the USDA can use the CCC for programs that we ultimately decide not to include in the Farm Bill. How can we be confident and negotiate in good faith if USDA continues to create programs without congressional approval under CCC discretionary fund use?"
"So certainly, again, we agree on the same goals. We certainly believe that, you know, the fertilizer costs are a huge input problem right now. The number one driver of that is the cost of energy. But certainly, our farmers and ranchers feel like how you're using the CCC is outside of the law. And I think that we need to be able to better understand that," Senator Marshall said.
On the lack of new trade deals:
Senator Marshall asked, "Yesterday, the Senate confirmed a new ambassador to India. We're lacking strong trade agreements with India, EU, and the UK right now. And this administration has not asked Congress for a new TPH, trade promotion authority, as well. What concrete steps have you taken, or do you intend to take, to convince the administration to open up new markets for American agriculture, especially when your department is predicting a record agriculture trade deficit?"
"Do you have any concrete steps that you can let us know what is happening on the trade side of agriculture?"
###