Senator Marshall Continues Mobile Office Hours to Better Serve Kansans
(Atchison, KS, February 6, 2023) – U.S. Senator Roger Marshall, M.D. will hold mobile office hours from 11:00 a.m. – 1:00 p.m. on Tuesday, February 14 on the campus of Benedictine College in the St. Benedictine Hall conference room. The public is invited to meet with a staff member from Senator Marshall's office to discuss any issues with federal agencies, federal programs or to inquire about federal resources.
"Since coming to office, one of my highest priorities has been ensuring that my staff and I are available to help Kansans with the assistance they need," said Senator Marshall. "With 105 counties in Kansas, we understand that some Kansans do not have direct access to our offices. That is why my staff is hitting the road to meet Kansans where they are and make it convenient for them to receive the assistance they need. I encourage folks in Atchison and the surrounding area to stop by our mobile office hours to receive guidance from staff members on federal assistance and other constituent services."
Event Details:
Time: 11:00 a.m. – 1:00 p.m.
Date: Tuesday, February 14
Location: St. Benedictine Hall's conference room on the campus of Benedictine College, 1020 N. 2nd St., Atchison, KS 66002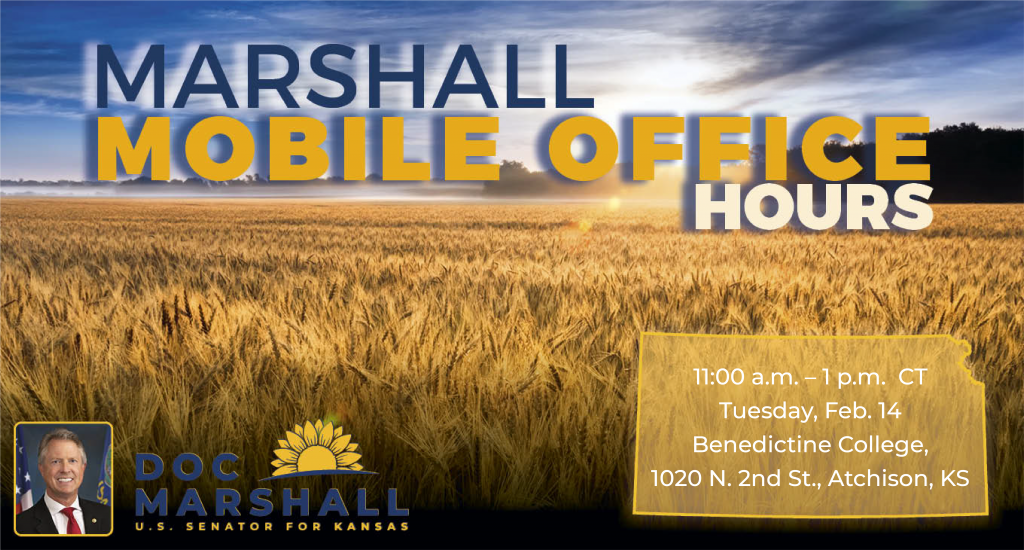 ###