Senator Marshall Leads Letter Demanding Answers Into USDA-EcoHealth Alliance Connections
Washington, D.C. – U.S. Senator Roger Marshall, M.D. continues his push for accountability in the aftermath of the coronavirus pandemic with a new inquiry into EcoHealth Alliance's ties to federal research dollars from the U.S. Department of Agriculture (USDA).
In today's oversight inquiry, Senator Marshall, joined by Senators Marco Rubio and Marsha Blackburn, requested all records from the U.S. Department of Agriculture (USDA) related to the agency's financial awards to EcoHealth Alliance, which include support for EcoHealth's dangerous pathogen research. The Senators question USDA's supporting role of the Global Virome Project, a DNA collection nonprofit organization founded by EcoHealth Alliance president Peter Daszak and has business agreements with the Chinese Communist Party. The Senators also ask how USDA employees serve on the editorial board of Ecohealth's journal in a potential conflict of interest with executive branch staff appearing to favor EcoHealth Alliance, a federal grantee.
The Washington Times carried exclusive coverage of Senator Marshall's new letter to the USDA.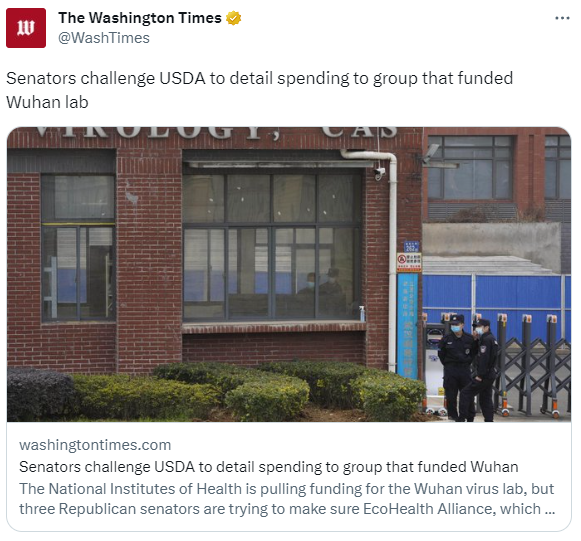 The letter comes on the heels of the U.S. Department of Health and Human Services' recent suspension of the Wuhan Institute of Virology (WIV) from federal funding. The WIV is the laboratory in China where dangerous gain-of-function research projects funded by the U.S. through Ecohealth Alliance could have unleashed the Covid-19 pandemic.
"A New York-based non-profit organization, EcoHealth Alliance (EcoHealth), used research grant awards from the National Institutes of Health (NIH) and the U.S. Agency for International Development (USAID) to sponsor bat coronavirus pathogen collection and risky research at the Wuhan Institute of Virology (WIV) in China for several years preceding the pandemic outbreak. As part of our oversight investigation, we are collecting all relevant U.S. agency records involving EcoHealth. We have identified records of interest in U.S. Department of Agriculture (USDA) agreements involving EcoHealth," the Senators wrote.
"EcoHealth describes a historical collaboration on its website with the USDA's National Wildlife Research Center (NWRC) in which EcoHealth and USDA would work through a Memorandum of Understanding (MOU) to prevent and control diseases that affected humans and animals. The MOU encouraged joint surveillance, applied research, education and outreach activities to track and understand emerging wildlife diseases and develop effective methods of notification for disease outbreaks and spread in local communities. Additionally, USDA previously awarded two research grants to EcoHealth (formerly known as Wildlife Trust) to detect the highly pathogenic H5N1 avian influenza in Mexico. Any of the records for these historical research projects may contain information relevant to the COVID19 outbreak," the Senators continued.
You may click HERE or scroll below to read Senator Marshall's full letter.