Senators Marshall and Scott Introduce Bill to Stop U.S. Purchase of Chinese-Made COVID Tests
Democrats Block Measure
(Washington, D.C., February 3, 2022) – U.S. Senators Roger Marshall, M.D. and Rick Scott (FL) offered their No Taxpayer Dollars for Communist Chinese COVID Tests Act, a bill to prohibit the use of federal funds to purchase at-home tests for COVID-19 that are imported from, or manufactured in, Communist China. The legislation was blocked by Senate Democrats. Senators Marshall and Scott introduced this bill following the Biden administration's purchase of $1.28 billion worth of COVID-19 at-home tests from iHealth Labs Inc., a unit of Andon Health Co., a medical device manufacturer headquartered in Communist China.
"The COVID-19 pandemic has exposed just how reliant our country is on medical supplies from China. Under President Biden, minimal actions have been taken to bring this manufacturing back to the United States and instead this administration is now sending taxpayer money to China for millions of COVID tests. We should be investing in American manufacturing and creating jobs at home instead of continuing to fund the CCP, particularly when their obstruction to uncover the origins of this virus' outbreak is ongoing," said Senator Marshall.
"It is imperative that the federal government do everything in its power to complete our public health mission in a cost-effective manner that prioritizes support for domestic manufacturing. Unfortunately, instead of supporting American manufacturing, the Biden administration is handing nearly $1.3 billion of taxpayer funds to a company in Communist China. The Biden administration's willingness to fund the Communist Chinese economy, instead of the American economy, is a disgrace. And Senate Democrats' decision to block my bill to support American jobs so that they can cover for the president's failure is a dereliction of duty and a shameful choice to again appease Communist China," said Senator Scott.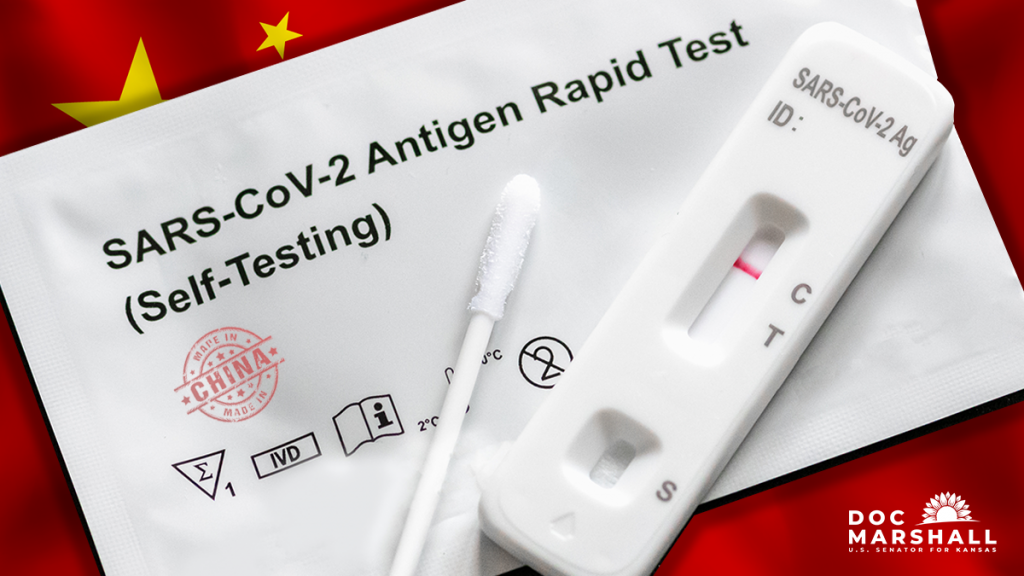 ###