Sens. Marshall, Baldwin Secure Win for Ranchers and Farmers at HELP Committee Markup
Washington, D.C. – Today, the U.S. Senate Health, Education, Labor, and Pensions (HELP) Committee held a markup on several health care reauthorizations including bipartisan legislation championed by U.S. Senators Roger Marshall, M.D. (R-KS), Tammy Baldwin (D-WI), Jerry Moran (R-KS), and Michael Bennet (D-CO). The Innovative Feed Enhancement and Economic Development (FEED) Act of 2023 (S.1842) was adopted as an amendment to the Animal Drug and Animal Generic Drug User Fee Amendments of 2023 where the legislation, as amended, passed out of Committee 21-0.
"The agricultural industry sets the gold standard when it comes to livestock production," Senator Marshall said. "My producers at home continue to want to make more with less and leave the world safer, cleaner, and healthier than they found it. Our legislation would establish a new pathway at the FDA for novel feed additive manufacturers to increase livestock efficiency and production. I thank my colleagues for recognizing the value of this legislation and helping to give American agricultural industry the tools necessary to feed the world and maintain global competitiveness."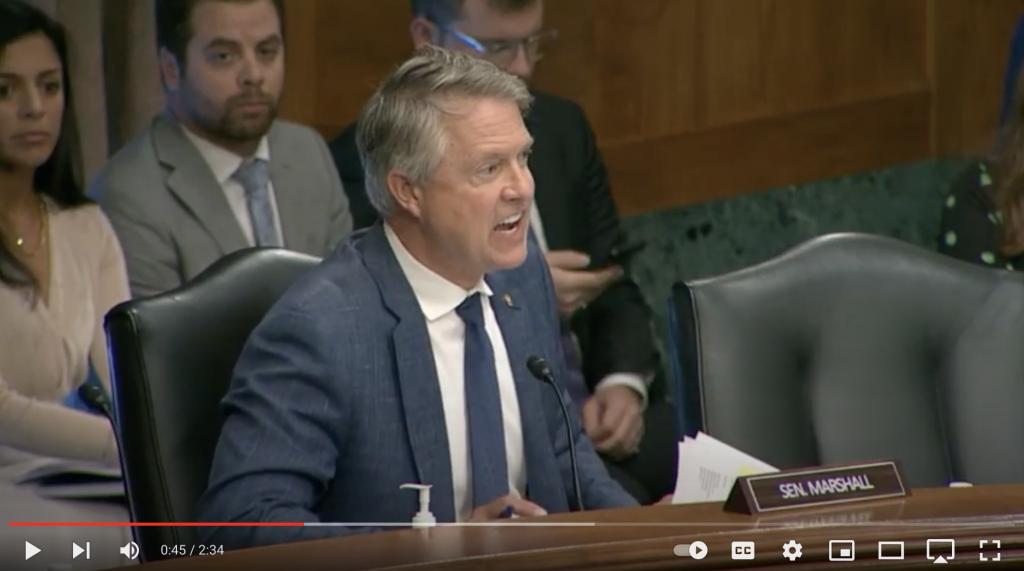 You may click HERE or on the image above to watch Senator Marshall's full remarks.
During the markup, Senator Marshall submitted a letter signed by 135 agriculture organizations including dairy, livestock, feed producers, pet food manufacturers, retailers, and more.
"I would like to thank Senators Marshall and Baldwin for their leadership in adding language that will modernize the animal feed regulatory structure to help bring innovative new feed additives to market that can reduce methane emissions from livestock and help address the pressing issue of climate change. This will help get new products into the hands of producers and bring certainty to companies looking to invest in this sector," said Chuck Conner, president and CEO of the National Council of Farmer Cooperatives.
"The National Grain and Feed Association (NGFA) applauds the Senate HELP Committee for including the Innovative Feed Enhancement and Economic Development (FEED) Act as an amendment to the Animal Drug and Animal Generic Drug User Fee Amendments of 2023 (S. 1844). We commend Senators Marshall and Baldwin for their leadership on this legislation which will promote the availability of animal food products with novel benefits, such as improving the environment and reducing human foodborne illness," said the National Grain and Feed Association.
"Growing bipartisan support for the Innovative FEED Act proves that our nation's leaders are committed to helping America's farmers and ranchers gain access to the tools they need to deliver better animal nutrition, reduce food safety risks and lower their environmental footprints. On behalf of AFIA and over 135 agriculture and food organizations and companies, we thank Senators Marshall and Baldwin, Chairman Sanders and Ranking Member Cassidy for keeping this bill moving forward and urge its swift passage by the full Senate," said American Feed Industry Association President and CEO Constance Cullman.
"We congratulate Sens. Roger Marshall and Tammy Baldwin for advancing their bipartisan Innovative FEED Act of 2023 through the Senate HELP Committee with broad support. This much-needed measure will modernize FDA's approach to approving animal feed ingredients. Current policy puts U.S. dairy farmers at a competitive disadvantage with their counterparts in other countries, as they are unable to gain access to safe and effective feed additives that can bolster their ongoing voluntary, producer-led sustainability efforts. We look forward to working with Sens. Marshall and Baldwin to see this effort into law and help dairy farmers continue to innovate," said Jim Mulhern, president and CEO, National Milk Producers Federation.
Background
American livestock and dairy producers are essential to American communities and are among the top exporters in the global market. Part of what makes these industries the best in the world is their commitment to innovation and utilization of the latest technologies to improve production while also reducing their environmental footprint. As the original conservationists, farmers and ranchers steward the land and rely on feed additives to improve the quality and efficiency of meat and dairy. However, innovation to meet these growing demands have stalled due to outdated, one-size-fits-all federal policies.
Over the years, agricultural stakeholders have called for the development and marketing of safe and effective feed additives that can be used in animal food to improve livestock production. Global competitors have been working to meet this demand. Europe, Asia, and South America have updated their policies to have feed products on the market that demonstrate increased efficiency in meat production and byproduct and waste reduction. For example, there are products that could address heat stress in livestock reducing death loss, products that would reduce nitrogen and phosphorus in manure to help feedlot operators comply with federal and state regulations, products to reduce the presence of food-borne pathogens animal feed, and products to reduce the amount of ammonia in swine manure reducing its smell. The FDA has recognized that some products do not fit clearly within the regulated-as-drugs or regulated-as-foods category. Last year, the agency held a virtual listening session with a public request for information on how to modernize its policies to make way for innovative feed additives.
Current law limits the agency's flexibility in developing new, more appropriate pathways to bring these products to market. Building on this effort, the Innovative FEED Act (S.1842) would modernize the approval process by establishing a new pathway for manufacturers to receive approval for feed additives that improve efficiency in meat and dairy production while also reducing byproducts and waste. The legislation also establishes strict guardrails to ensure only qualifying products are eligible for this pathway while also ensuring products are safe to use.