VIDEO: Sen. Marshall Discusses COVID Vaccines and President Biden's First Year in Office
(Washington, D.C., January 2, 2022) – U.S. Senator Roger Marshall, M.D. today appeared on FOX News' Sunday Morning Futures to discuss his successful efforts to prevent dishonorable discharges for servicemembers who chose to not get the COVID vaccine and about President Joe Biden's first year in the White House. In part Senator Marshall said,
"…America is living a nightmare – a nightmare created by the policies of this White House. Just take a scan around the country at the crises created by this White House: crisis at the border, culture of lawlessness across the country, inflation, the price of gasoline, inability to deal with COVID, national security issues. All these policies are coming to roost right now and we are all living that nightmare… We know the White House wants to give our military personnel a dishonorable discharge if they are separated because of their refusal to take the [COVID] vaccine. As a former Army doctor myself, I respect religious freedoms. This should be a decision between the military doctor, their chaplain, and the soldier. We were able to slip in some legislation that would prevent that soldier being separated from getting a dishonorable discharge. I support the vaccine but I think it should be a personal choice…"
You may click HERE or on the image below to watch Senator Marshall's interview.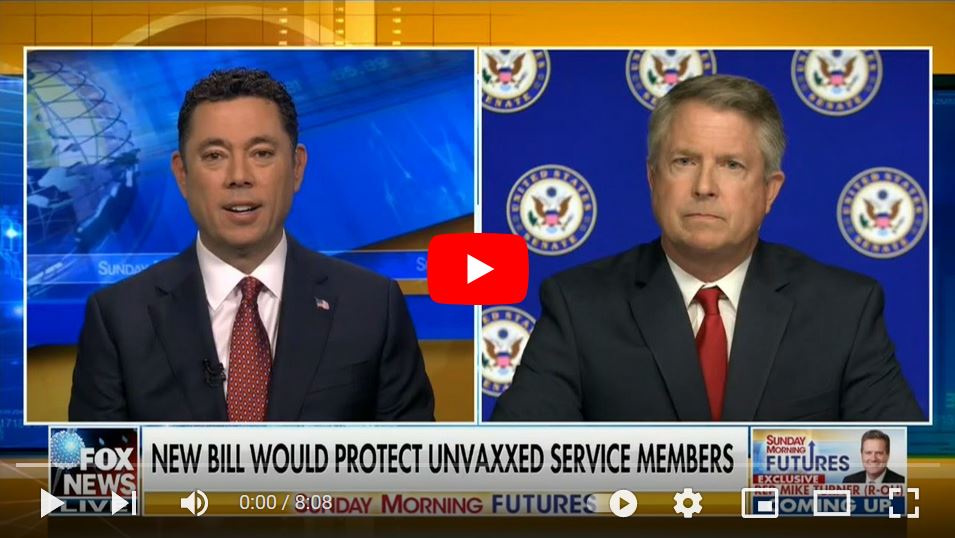 Background:
Senator Marshall's legislation to prevent servicemembers from receiving a dishonorable discharge for choosing to not get the COVID vaccine was signed into law as part of the National Defense Authorization Act (NDAA). You may click HERE or on the image below to watch a highlight video of Senator Marshall's fight against these dishonorable discharges:
The COVID-19 Vaccine Dishonorable Discharge Prevention Act was introduced by Senator Marshall on the heels of President Biden mandating millions of Americans to get vaccinated and the DOD issuing guidance stating that soldiers who refuse the vaccine will face "administrative or non-judicial punishment [under UCMJ] – to include relief of duties or discharge."
Soon after introduction of the bill, the White House announced opposition to the Senators' legislation and in turn doubled down in their support to give service members a dishonorable discharge for refusing the COVID vaccine. As such, Senator Marshall offered his legislation as an amendment to the NDAA.
Dishonorably discharged U.S. service members surrender the following rights and benefits:
Ownership of any sort of firearm or ammunition
Access to the GI Bill for further education
VA home loans
VA medical benefits
Military Funeral Honors
Re-enlistment in another military branch
Senator Marshall penned an op-ed for FOX News on his legislation. You may click HERE to read it. You may also click HERE or on the image below to watch Senator Marshall's press conference on his legislation.
###