EXCLUSIVE: Fox News on Sen. Marshall's Legislation Requiring Reporting on Terror Watchlist
Washington, D.C. – Today, Fox News published an exclusive article on U.S. Senator Roger Marshall, M.D.'s legislation that would require the Biden Administration to provide a report to Congress on the individuals encountered at the border that are on the FBI's terror watchlist. This legislation requires accountability and demands transparency from this administration on who is exploiting our border and infiltrating our communities.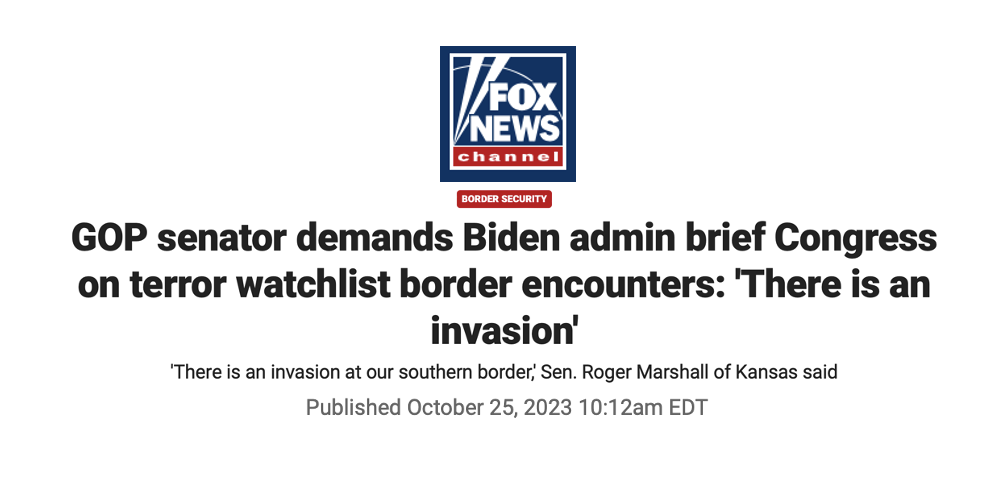 You may click HERE or on the image above to read WSJ's full exclusive.
Highlights from the article include:
"Legislation being introduced by Sen. Roger Marshall, R-Kan., would require the federal government to report to Congress details about terror watchlist encounters at the southern border – coming amid renewed concerns about the terror threat at the border."
"That would include where the individuals were encountered, details on why they were on the watchlist, any such ties they have to a terrorist organization, national origin and previous criminal convictions."
"Other information would include how they traveled to the U.S., details about their detention and if they have been deported into the U.S. or released, and how many faulty watchlist hits have occurred."
"There is an invasion at our southern border. Every day that the Biden administration continues their open border agenda, Americans' national security is at risk," Marshall said in a statement. "Month after month, we have seen historic numbers of migrants on the FBI's terror watchlist infiltrating our country's border. The threat the individuals on this list pose to Americans' safety is too great for us to do nothing."
"There were 169 people encountered on the terror watchlist at the southern border in FY 23. With encounters between ports at the northern border included, the total for fiscal year 2023 was 172."