EXCLUSIVE: Wall Street Journal on Sen. Marshall's Bipartisan Credit Card Competition Act
Washington, D.C. – Today, The Wall Street Journal published an exclusive article regarding U.S. Senator Roger Marshall, M.D.'s reintroduction of his bipartisan-bicameral legislation that protects Main Street small businesses and consumers by driving down credit card swipe fees, a hidden tax on all Americans, fueling inflation.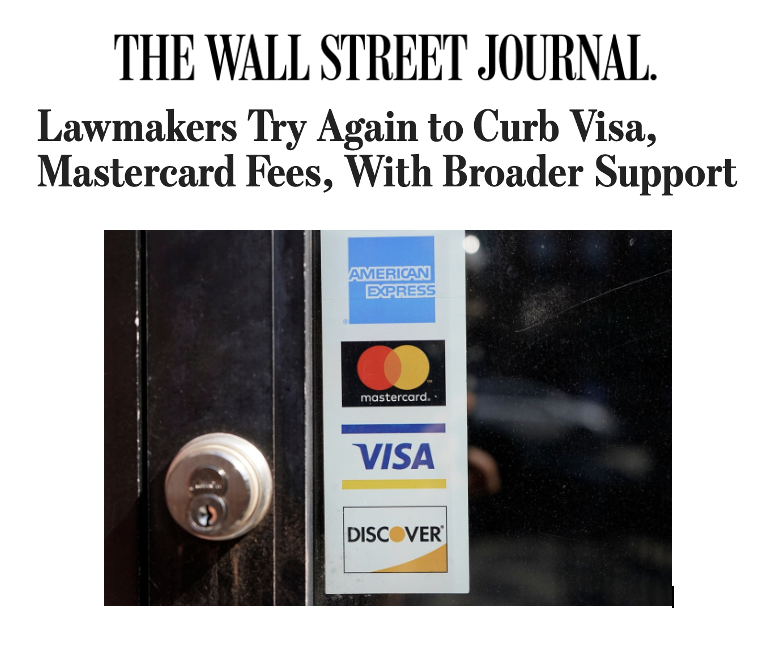 You may click HERE or on the image above to read WSJ's full exclusive.
Highlights from the article include:
"Lawmakers plan to re-up proposed legislation that would give merchants the power to process many Visa and Mastercard triangle credit cards over different networks."
"The new bill is expected to be introduced as soon as this week with two additional co-sponsors, Sen. Peter Welch, a Vermont Democrat, and Sen. J.D. Vance, an Ohio Republican."
"A nearly identical bill was introduced last summer by Sen. Dick Durbin, an Illinois Democrat, and Sen. Roger Marshall, a Kansas Republican. That bill was referred to the Senate Banking Committee but didn't get voted on. Vance, who joined the Senate this year, is a junior member of the committee."
"Currently, when a consumer pays with a credit card that has Visa or Mastercard listed on it, merchants generally have to route the payment through that network. The bill would mandate that merchants in many cases have the right to route payments through an unaffiliated network. That could lower the fees that merchants have to pay."
"Visa and Mastercard set and pocket network fees that merchants pay when consumers shop with cards. They also set interchange fees that merchants pay to the banks that issue credit cards."
"Marshall told The Wall Street Journal last year that banks and major credit-card networks lobbied his office not to sign onto the bill. After introducing the bill, Marshall's office was repeatedly told that no other Republicans would support it, according to people familiar with the matter."
"The increased Republican support is largely the result of lawmakers' offices hearing from small businesses and other merchants, according to people familiar with the matter."
"A House version of the bill is also expected to be reintroduced this week with additional Republican support."
"Rep. Lance Gooden (R., Texas) who co-sponsored the original bill, will be joined by Republican Reps. Jeff Van Drew of New Jersey and Tom Tiffany of Wisconsin. Democrat Rep. Zoe Lofgren of California will also be a co-sponsor."