ICYMI: New York Post Releases Exclusive on Senator Marshall's Letter to CDC on Transgender 'Chestfeeding' Guidance
Washington, D.C. – The New York Post released an exclusive on Senator Marshall and Senator Bill Cassidy's letter to the CDC demanding answers about their dangerous transgender 'chestfeeding' guidance. It is deeply alarming for the CDC, an agency supposedly designated to be a national public health agency, to prioritize their political agenda over the health and safety of newborns.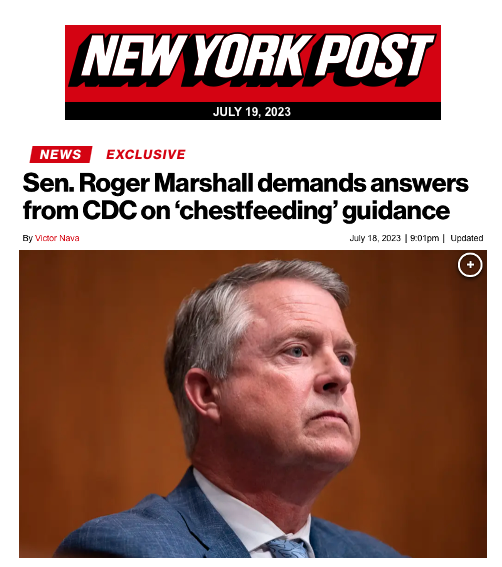 You may click HERE or on the image above to read the full feature.
Highlights from the exclusive article include:
"Sen. Roger Marshall (R-Kan.) on Tuesday accused the Centers for Disease Control and Prevention of failing to explain the health and safety risks posed to infants and transgender individuals in "chestfeeding" guidance issued by the federal agency."
"Marshall – a physician who has delivered more than 5,000 babies as an OB/GYN – argued in a letter sent to CDC Director Mandy Cohen that the agency's advice for transgender and nonbinary individuals seeking to 'breastfeed or chestfeed" their infants "seems driven by political considerations rather than science.'"
"The Kansas Republican and Sen. Bill Cassidy (R-La.), a co-signer on the letter, expressed concern that the CDC doesn't adequately explain the problems that may arise from transgender individuals using "medication to induce lactation" – which could be passed along to an infant with dangerous consequences."
"Metoclopramide and domperidone, the most common drugs used off-label for the purpose of inducing lactation, "come with significant risks and side effects," according to the two doctors-turned-lawmakers."

Read the Senators letter HERE.