Sen. Marshall joins Fox Business Mornings with Maria: The WIV is Just the Tip of the Iceberg
Washington, D.C. – U.S. Senator Roger Marshall, M.D. joined Mornings with Maria on Fox Business to discuss DHS Secretary Mayorkas failing the American people, the recent announcement of HHS suspending funding to the Wuhan Institute of Virology, and the latest on the National Defense Authorization Act (NDAA) negotiations.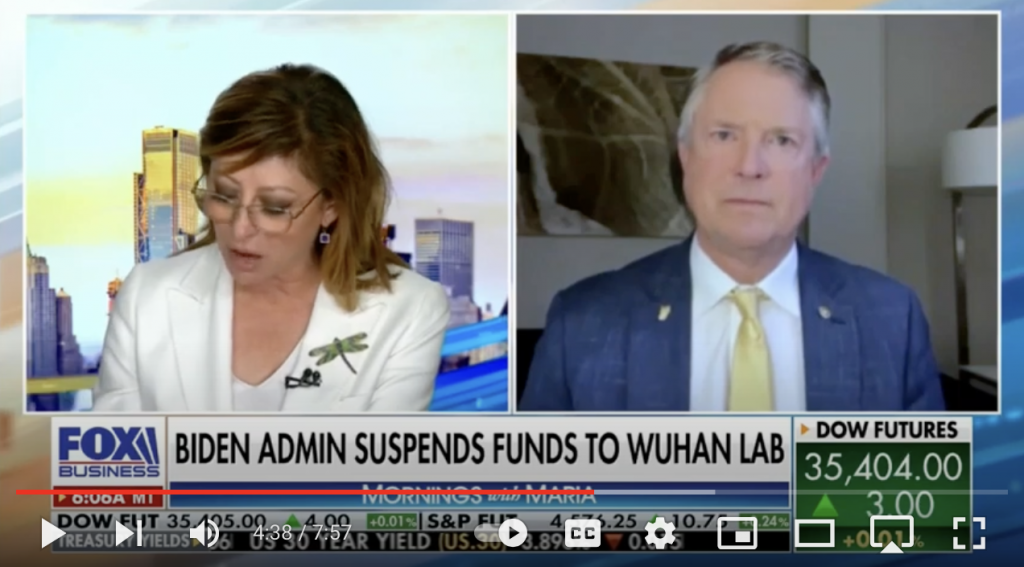 You may click HERE or on the image above to watch Senator Marshall's full interview.
Highlights from Senator Marshall's interview include:
On the HHS suspending funding to Wuhan Lab:
"Here's our frustration over two years ago, we called for this funding to stop. There was plenty of evidence to say, even then, that most likely this virus was made and leaked from that laboratory. But the WIV is just the tip of the iceberg."
"That's how incompetent this particular administration is, they're still funding EcoHealth, which is working hand in glove with the Chinese Communist Party to develop bioterrorism weapons."
On Mayorkas being derelict in his duties:
"He's allowed six million people to cross the border illegally under this particular President. And now he's manipulating the process to bring people across even more efficiently, illegally, but more efficiently."
"And again, 6 million people over 200 terrorists this year, [and over] 8,000 Chinese nationals have crossed our border this year alone. Remember, every day 300 Americans die from fentanyl poisoning as well. And we haven't even touched on the subject of human trafficking."
On the NDAA in the Senate:
"So I really don't know if we'll get much of any of this done, perhaps the NDAA, the National Defense Authorization Act, with a little luck, we'll get it finished up next week. But I'm very concerned, this is a $900 billion bill, a nation that has a $33 trillion national debt. We've seen this bill grow over the past four or five years, from $700 to $800, now to $900 billion."
"And yet, there's no funding in it to address our biggest number one most immediate national security threat, and that's our southern border. I'm curious to see what we're going to do with Ukraine funding, we've already given Ukraine $113 billion. And folks up there saying that that's still not enough, in addition to this $900 billion NDAA. They want more funding for Ukraine. Our military is currently funding late-term abortions. They're funding transgender surgeries as well, and then the hormones as well. We have a military more focused on pronouns than they are lethality. So we're gonna push back a little bit."