ICYMI: Senator Marshall Hosts Ag Mental Health Roundtable in Topeka
Topeka, KS – U.S. Senator Roger Marshall, M.D. hosted an Ag Mental Health roundtable to kick off his Ag Mental Health Awareness campaign at the Kansas Soybean Association in Topeka. This roundtable discussion addressed meeting the mental health needs for the agriculture community. Senator Marshall was joined by health care leaders across the state, K-State Research and Extension professionals, Kansas Farm Bureau, Kansas Farmers Union, and more.
Currently, farmers are facing numerous obstacles and stresses that are outside of their control. The roundtable focused on breaking the stigma around mental health care and encouraging farmers and ranchers to utilize the resources available to them if they are experiencing  increased stress, depression, or suicidal thoughts.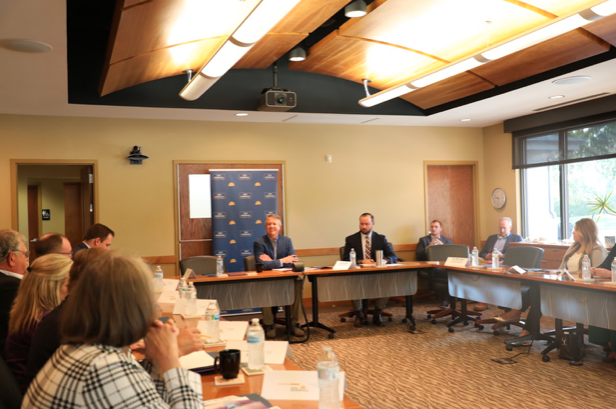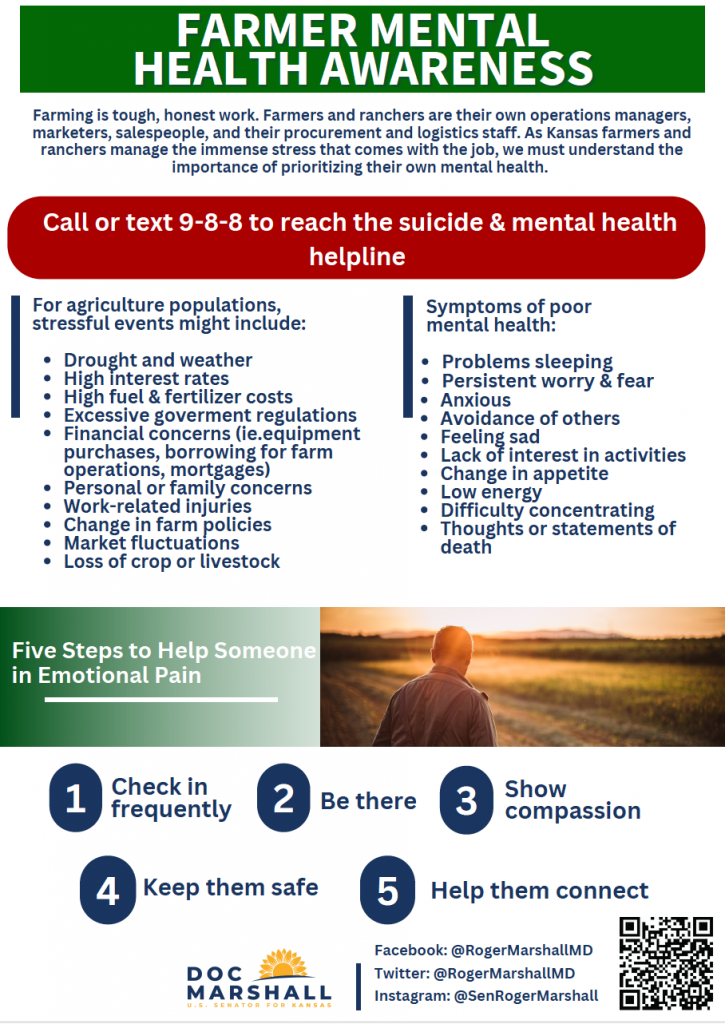 Highlights from the roundtable include:
"September is National Suicide Awareness Month. Farmers and ranchers have a 3.5 times higher chance of suicide than the average profession. The stressors in agriculture are very, very real. The pressure of being a 5th, 6th, 7th generation farmer or rancher – those stressors are very real. Our goal this month is to get the word out to our farmers and ranchers that they are not alone, that there are resources to help you," Senator Marshall said.
"The Ag Industry, we take care of each other. So, giving our producers and giving farmers tools to help recognize when they need help or maybe when one of their friends or family needs help is important. It can be hard to talk about our physical or mental health, but it is critical for our rural communities. And there are good resources out there that those in need may not know about so we are trying to raise that awareness," CEO of the Kansas Soybean Association, Kaleb Little said.
"There are a number of resources available through Kansas State Research and Extension to assist producers and their families. That it is ok to reach out for help. You are not alone. Help is available," Dr. Peterson, Associate Director Extension Programs, Kansas State Research and Extension said.
"The work being done by Senator Marshall and the rest of the representatives, especially during Suicide Prevention Month, to provide resources to our farmers and ranchers is greatly appreciated. It is important that we continue to have discussions like those the Senator is putting together to raise awareness, and provide critical resources to our farmers and ranchers that are struggling," Taylor Williamson with Kansas Corn said. "Kansas Corn has been proactive, working with the National Corn Growers and the Kansas Department of Agriculture, providing resources to help farmers handle the stressful situations that agriculture can put us in. KCGA member Lowell Neitzel from Lawrence has been on the forefront to bring awareness to this issue on the state and national levels. We work with KDA to identify "Ag Aware" mental health providers that understand and can relate to those in the agriculture community. These providers, along with other mental health resources, can be found at kansasagstress.org. Kansas Corn also offers QPR training to help provide guidance if you or someone you know is suffering or in crisis."