ICYMI: Senator Marshall Joins Cavuto Coast-To-Coast Discussing Israel Relief "Israel Needs Our Help"
Washington, D.C. – U.S. Senator Roger Marshall, M.D. joined Cavuto Coast-To-Coast to discuss separating Israel aid funding from billions more dollars to Ukraine. By splitting the massive supplemental package from the Biden Administration we will avoid sending another blank check to Ukraine.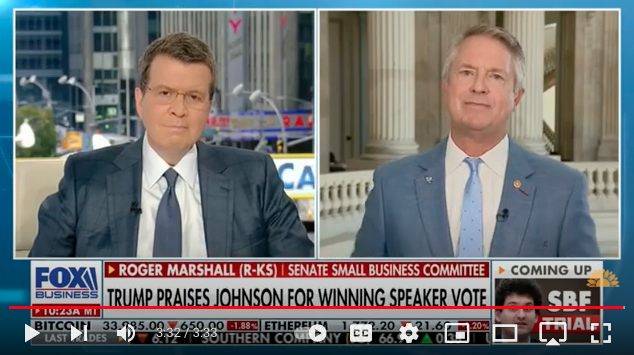 You may click HERE or on the image above to watch Senator Marshall's full interview.
Highlights from the interview include:
On Ukraine war going nowhere and the U.S. support for Israel:
"Look, Israel needs to be unequivocally supported. My fear is that in the next two weeks, Israel is going to have three very active borders and in addition, down in Yemen, those folks the Houthis are able to launch rockets that reach Israel as well."
"On the other hand, Ukraine, Ukraine is a seven or ten year war. Think about this just for a second… 200,000 people have already died in Ukraine, 500,000 casualties. We need to be focused on a peace plan in Ukraine, but right now, Israel needs our help. They need it yesterday. They're about to be overwhelmed by their enemies."
"I do think that we need to have a fierce debate on Ukraine. It's controversial within our own caucus. It's controversial in the House. We're seeing more and more problems over there with our funding going towards [Ukraine]. What are they doing with it?"
"Ukraine is struggling to find people to go fight the battle right now. The political class, the ruling class wants the fight, they want the war, but that war is going nowhere. On the other hand, Israel is rock solid here in the Senate and the House."
On Speaker Johnson's Election:
"I believe for such a time as this Mike Johnson has been called. I believe that you're gonna see his goodness, his faithfulness, his gentleness… I think that he does have the ability to bring people together."