ICYMI: Senator Marshall Joins Evening Edit: "This President Is Not Fit To Lead"
Washington, D.C. – U.S. Senator Roger Marshall, M.D. joined Evening Edit on Fox Business to discuss President Joe Biden's lack of acknowledgement of the 9/11 victims and families on the 22nd anniversary of one of the deadliest attacks on U.S. soil. In the segment, Senator Marshall discussed Biden's low approval ratings due to his failed leadership on: skyrocketing inflation, economic crisis,  our wide open southern border, and more.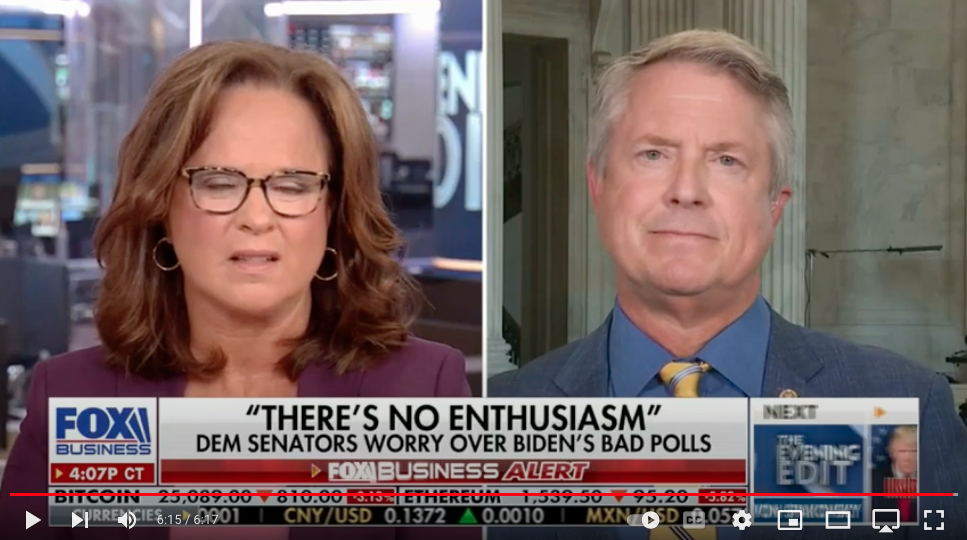 You may click HERE or on the image above to watch Senator Marshall's full interview.
Highlights from the interview include:
On Biden's lack of leadership on the anniversary of 9/11:
"I think that a short fuel stop on the way home from a very unsuccessful, embarrassing trip abroad is not the way to celebrate 9/11."
"Most of us remember that it was 8:46 a.m. this morning when that first tower went down and was struck by a terrorist. Almost 3,000 Americans lost their lives that day, 400 first responders ran to the sound of battle and lost their lives."
"I think this is totally inappropriate, it shows us how out of touch this current President is, it's a very sad moment and I just want to stop myself and and offer my condolences to all those folks that lost loved ones on 9/11 and let them know that we're still with you, we've not forgotten."
On Biden's low approval ratings and leadership failures:
"This is an embarrassment that this President is not fit to lead. We've all seen his mental and physical decline, his lapses and we know that he does not have the physical strength or stamina, the mental acuity to be able to be the President of the United States. This is the toughest job in the world. Even a person that's physically fit needs all their wits about them."
"This is why his numbers are falling. This is why probably 60% of Americans don't think he's doing a good job. 70% of Americans are upset about the economy."
"We just watched the demise of this nation under the lack of leadership from Joe Biden whether it's inflation, an open border, the escape from Afghanistan, his attacks on our freedoms as well. So I think that [Democrats] should be running from him as fast as they can."