ICYMI: Senator Marshall Joins Fox Business On Joe Biden's Green Policies That Enrich China And Hurt America
Washington, D.C. – U.S. Senator Roger Marshall, M.D. joined Kudlow on Fox Business to discuss the Chinese Communist Party's (CCP's) growing foothold that should alarm every American. This week, Senator Marshall introduced legislation that would stop the Biden Administration from using taxpayer dollars to fund research in China. He also introduced a resolution to block Biden's rule that pushes electric vehicle chargers to be made in communist China.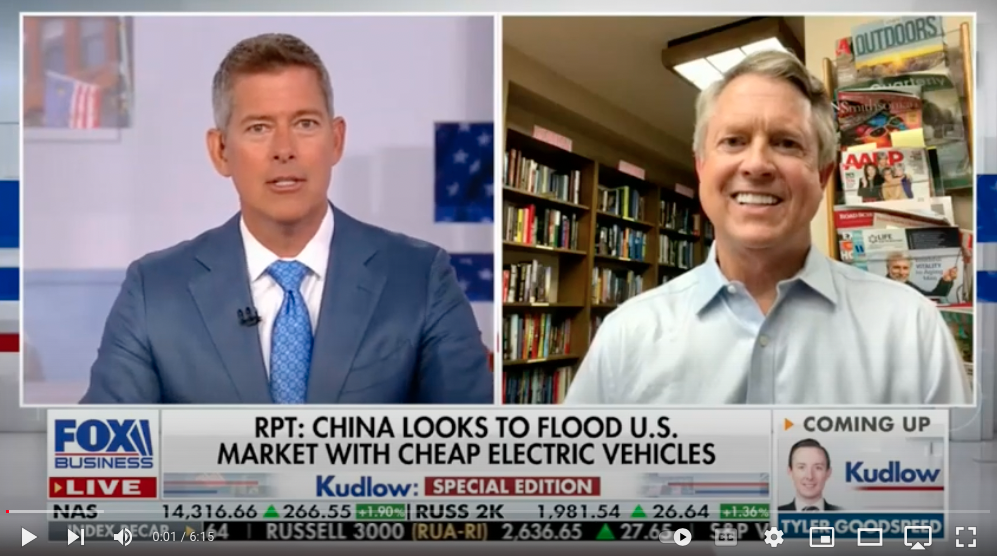 You may click HERE or on the image above to watch Senator Marshall's full interview. 
Highlights from the interview include:
On the move to block Chinese electric vehicle chargers production:
"This is the next chapter of Joe Biden's schizophrenic policies which all seem to enrich China. I say schizophrenic – he wants this to go from zero to 100 miles an hour and convert all of our cars to EV, but he won't let us mine the lithium and copper that we need to make those batteries. He won't let us be able to make affordable steel in this country that we need to make those cars."

"But guess what? His other policies keep us from making [goods] in America and enrich China. Sometimes I just throw my hands up and say I don't know what this President is thinking."

"So right now, when you talk about EV powered cars, they're really powered by coal and natural gas. And unfortunately, wind energy and solar energy have been a miserable failure. I got behind them, I had hoped for the last 25-30 years they would be successful, but they're unaffordable. And they're unreliable."

"These policies are getting us nowhere. We are killing American energy, oil and gas."
On Senator Marshall's legislation to stop funding Chinese research:
"Let's stop funding for any grants in China. Period. You know, think about this. I want your listeners to go look at what Trinity Challenge is, which is backed by the Chinese Communist Party, along with the Gates Foundation and the Clinton Foundation, the World Health Organization were indirectly funding it and they're developing, they want to assess the DNA of every person, every animal in the world, and then who knows what they're going to use use it for."
"Dr. Fauci controlled almost $30 billion of grants through the NIH alone… getting grants from the DoD, from the Gates Foundation, to fund this type of [risky] research. So it is a deep swamp to go through all those grants.
"I would love to go through them one by one and figure out exactly where our grants are going to, but in the meantime, look at stuff funding our adversaries, especially in bioterrorism research."