ICYMI: Senator Marshall Joins RFD-TV To Discuss California's Prop 12
Washington, D.C. – U.S. Senator Roger Marshall, M.D. joined RFD-TV live from the Flint Hills of Kansas to discuss the EATS Act, legislation that fights against California's Proposition 12 Rule that says farmers in Kansas should be told how to raise pigs by folks in California. This legislation is being led in the House by Congresswoman Ashley Hinson (R-IA-02).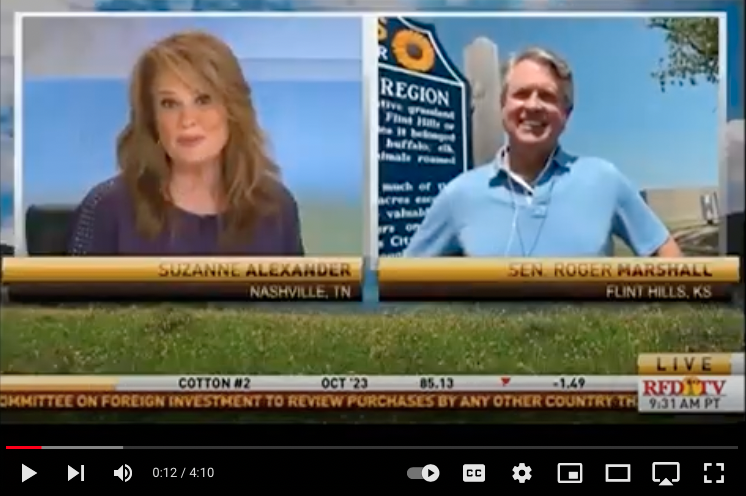 You may click HERE or on the image above to watch Senator Marshall's full interview.
Highlights from the interview include:
EATS Act:
"Look, these are radical activists, animal rights activists that are leading this charge against us."
"We do not want California telling Kansas and Iowa farmers how to raise pigs, next is going to be cattle, then they're going to tell us we can't grow GMO corn. So we are drawing a line in the sand and saying no, thank you, California. This is Kansas, we're gonna do it the way Kansans have done this for centuries."
"What this [EATS Act] does is preserve interstate commerce as we know it, it stops other states like California from telling us what we can do and not do and again, it's a pig today, but next it's going to be how we drill oil and gas that you can only make electric cars and electric tractors."
"The animal rights activists are accusing us of everything from being communists, to I don't even know what…But this is to protect Kansas farmers and ranchers and Iowa farmers and ranchers."
"The next step is we need people in agriculture to share how much we respect animals and how we raise livestock, that we are the greatest stewards in the land. We need to share that across the countryside."
On the Lesser Prairie Chicken CRA passing the House:
"All your farmers and ranchers know when there's a species that they list in this Endangered Species Act, it impedes farming and ranching, it's just an extra burden. So we've repealed that ruling that the EPA has put on us, fish and wildlife department we're going to push back on them. And then but, of course, Joe Biden has promised to veto it. I'm afraid I'm leading the league in veto threats from this President."