ICYMI: Senator Marshall Joins Fox Business: "We've Had 18,000 Chinese Nationalists Cross The Border and Released"
Washington, D.C. – U.S. Senator Roger Marshall, M.D. joined Fox Business' The Big Money Show to discuss the ongoing crisis at the southern border, the over 18,000 Chinese nationalists who have illegally entered the United States through the wide open border over the past year, and the recent news that migrant encounters have hit a record high this month.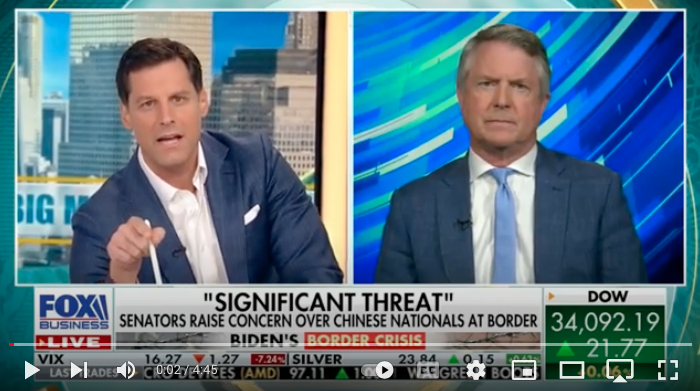 You may click HERE or on the image above to watch Senator Marshall's full interview.
Highlights from Senator Marshall's interview include:
On the Southern Border Crisis and Chinese nationals entering our country:
"It's a sad day in America when the Chinese Communist Party is paying more attention to our border than the White House is. So think about this, we've had 18,000 Chinese nationalists cross the border and released, let me emphasize, they crossed the border, they were apprehended, and they were released. And then probably another additional 6,000 gotaways."
"These folks are infiltrating our schools. They're infiltrating our high tech companies, stealing everything we know about artificial intelligence, as well as military operations as well. The open southern border is the number one most immediate national security problem this nation is facing."
"Don't watch what the White House is saying, watch what they're doing. Their processes are promoting this catch and release, that's why we're having record numbers. And all these people from Venezuela, and then the ex post facto saying, here's work permits as well, it's the wrong way to do it. Until we secure our borders and control the input, there's really nothing that those folks whether you're in New York, or Kansas, or in Texas, but just imagine what it's like to be on those Texas border towns where I have visited myself, and they're overwhelmed with that every single day, totally taxing all their community health support systems they've got."
"There's not an answer. When you have 6 million people caught and released in this country under this Biden administration."