ICYMI: Senator Marshall Joins Newsmax: We're Calling Joe Biden's Bluff This Week
Washington, D.C. – U.S. Senator Roger Marshall, M.D. joined The Chris Salcedo Show to discuss his support for standalone Israel aid to help our ally in their war against the Hamas terrorists. During the segment Senator Marshall also addressed Joe Biden's repeated failure on the world stage that has empowered our adversaries like Iran and his open border policies that are letting millions of people into our country unaccounted for.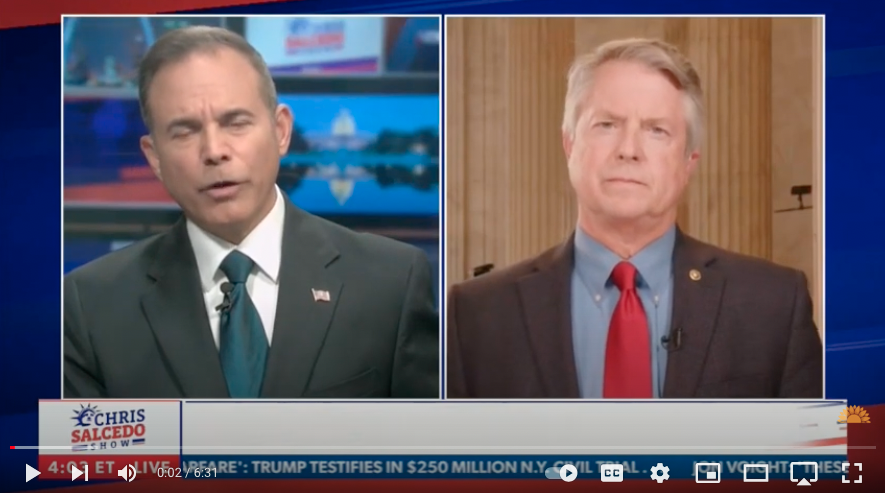 You may click HERE or on the image above to watch Senator Marshall's full interview.
Highlights from the interview include:
On America Sending Aid to Israel:
"Look, it's been almost a month now, since Hamas brutally attacked the people of Israel. We're no closer today to funding Israel, helping them get more weapons, than we were a month ago. And that's why we're going to call Joe Biden's bluff this week. Joe Biden says he supports Israel, he says that he wants $14 billion for Israel. So we're gonna put that bill on the floor this week. We're gonna give him an opportunity to put his money where his mouth is."
"He wants to play chicken with Israel's future, in order to get his funding for his never ending war in Ukraine."
On America's Dangerous Open Southern Border and Biden's failed policies:
"I have 10 million reasons why I'm concerned, 10 million reasons why we need a new president in the White House. Under Joe Biden…almost 10 million people now crossed the border illegally, amongst them, 600,000 'gotaways' this year alone. And when we asked the Secretary himself, well, 'so how do you track these people? Who are they, where are they, what are they?' They have no idea of course."
"So could you imagine the havoc that could be reaped by the 600,000 'gotaways,' let alone the some 20,000 Chinese nationals… 60,000 aliens of interest that have crossed our borders illegally in the past couple of years. So this is a very real threat."
On Looming Government Funding Deadline:
"This is exactly what Chuck Schumer wants. If he had his way, he would wait till the end of the year, put them all together in one great big omnibus package because he can control the funding."
"That's the challenge right now, then he wouldn't mind slipping in another $100 billion dollars of funding for Ukraine as long as we're there at the fountain of money, and to your point though, your first point you made the greatest threat to our children's future is our national debt. $33 trillion, we spent $900 billion on interest alone this year. This is unsustainable at this point in time. We need to get back to a regular process where we take these [appropriation bills] one at a time."