Marshall, Republican Colleagues Seek Answers on Foreseeable Baby Formula Shortages, Call for GAO Study
(Washington, D.C., October 26, 2022) – U.S. Senator Roger Marshall, M.D. – an OBGYN who delivered more than 5,000 babies – joined a letter this month with eight of his Republican colleagues to the Government Accountability Office (GAO) seeking answers on recent baby formula shortages and asking for an investigation into the impact sole-source contracts in the Special Supplemental Nutrition Program for Women, Infants, and Children (WIC) program may have had. The share of formula in the United States that is consumed by WIC infants is estimated to be over 50 percent.

"We have heard concerns expressed about the Special Supplemental Nutrition Program for Women, Infants, and Children (WIC) impact on the infant formula market, in particular in the light of current supply shortages," the Senators wrote. "The shut-down of the Abbott manufacturing plant led to foreseeable shortages of certain infant formula products for WIC participants, but also affects non-WIC formula buyers, retailers and grocers."

"To address the high cost of infant formula under WIC, states were required to pursue cost containment systems in 1989 under the Child Nutrition and WIC Reauthorization Act. As a result, all states pursued sole-source contracts with infant formula manufacturers, who then sends rebates to the WIC state agency. These rebates have saved the WIC program between $1 to $2 billion annually. While these savings have allowed the WIC program to stretch funding farther, some stakeholders have expressed concerns with unintended consequences these contracts have on the market," the Senators continued.

The Senators requested a GAO analysis that answers the following questions:
How did the price of infant formula change for both WIC and non-WIC customers after the introduction of sole-source rebates?
How did particular market characteristics such as market concentration, methods of marketing, and barriers to entry impact the size of the rebates offered by manufacturers?
How have sole-source contracting and minimum infant formula stocking requirements impacted independent and small retailers?
What legislative or regulatory changes could improve sole-source contracting? What other measures could address cost containment of infant formula under WIC?

The letter was led by U.S. Senator Deb Fischer (R-Neb.). In addition to Senator Marshall, cosigners to the letter include U.S. Senators John Boozman (R-Ark.), John Cornyn (R-Texas), Shelly Moore Capito (R-W.Va.), Susan Collins (R-Maine), Chuck Grassley (R-Iowa), Thom Tillis (R-N.C.), and James Risch (R-Idaho).

GAO recently shared confirmation that they will conduct the study. The full text of the letter is available here.
Background:
On September 20, Senator Marshall co-led a group of his Senate Republican colleagues in a letter to the U.S. Food and Drug Administration (FDA) regarding the agency's ongoing strategy to replenish the supply of baby formula across the country. In particular, the Senators expressed their concerns that the FDA has not approved enough formula applications to restore national baby formula supplies or prevent another shortage from occurring. You may click HERE to read the letter.
Senator Marshall recently wrote a letter to U.S. Department of Agriculture Secretary Tom Vilsack, U.S. Department of Health and Human Services Secretary Xavier Becerra, FDA Commissioner Califf, and National Economic Council Deputy Director Sameera Fazili demanding answers to the Biden Administration's ongoing response to the nation's baby formula shortage that is still wreaking havoc in communities across the U.S. You may click HERE to read the letter.
Earlier this year, Senator Marshall launched a webpage to help struggling Kansans with the baby formula shortage and understand safe infant feeding practices. You may click HERE or on the image below to access the webpage.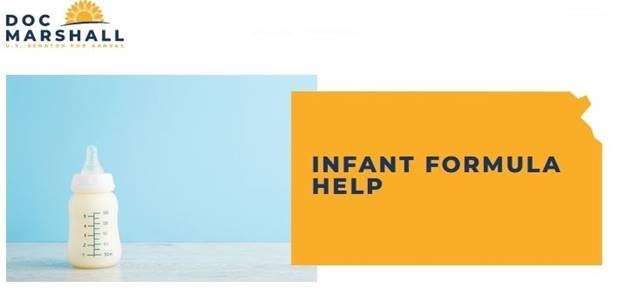 In May, President Biden signed the Access to Baby Formula Act, legislation Senator Marshall helped introduced alongside a bipartisan group of senators. The legislation:
Gives USDA permanent authority to respond in the event of a product recall or supply chain disruptions and provide WIC flexibilities including:

Allowing vendors to exchange or substitute authorized supplemental foods;
Allowing flexibility so a doctor's note is not needed to access another brand of formula;
Flexibilities on the maximum monthly allowance for infant formula, and;
Allowing for additional flexibilities so long as they do not substantially weaken the nutrition quality of the products.

Gives USDA permanent authority to respond to an emergency or disaster and provide WIC flexibilities as needed.
Requires baby formula rebate contracts to include a plan to respond to a baby formula recall, including how the manufacturer would prevent shortages of baby formula and require manufacturers to follow these new requirements in the event of a recall.
Ensures that FDA and USDA have a Memorandum of Understanding so that FDA is increasing communication with USDA. It is key that USDA has access to information so that the Department is prepared to respond to potential shortages within the WIC program.
Additionally in May, Senator Marshall led 21 of his colleagues on a letter demanding answers from the U.S. Food and Drug Administration (FDA) regarding its inadequate investigation into Abbott Nutrition's Michigan manufacturing facility and failure to mitigate the nationwide baby formula shortage. The senator also asked questions regarding when the White House was made aware of the dire situation and the steps available to limit the harmful impact on families and their newborns.
Finally, in May, questioned FDA Commissioner Robert Califf, M.D. about the baby formula shortage that is wreaking havoc on Kansas families. During the hearing, Senator Marshall read a handful of emails he has received from Kansans struggling to find baby formula. You may click HERE or on the image below to watch Sen. Marshall's exchange.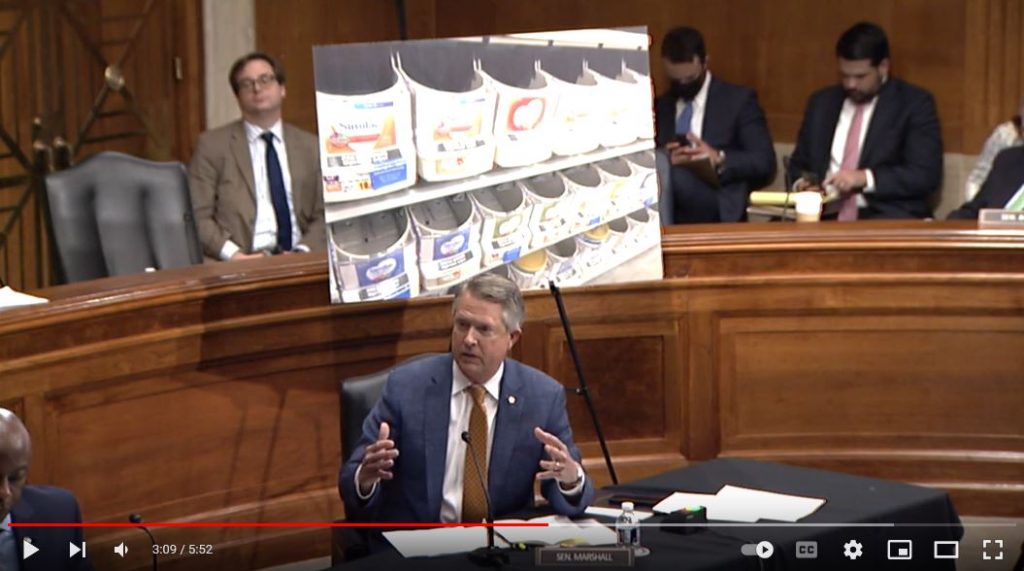 ###