Sen. Marshall to FDA Commissioner: What would you suggest I tell Kansas moms?
Senator Reads Kansans' Baby Formula Shortage Stories to FDA Commissioner
(Washington, D.C., May 26, 2022) – U.S. Senator Roger Marshall, M.D. today questioned FDA Commissioner Robert Califf, M.D. about the baby formula shortage that is wreaking havoc on Kansas families. During the hearing, Senator Marshall read a handful of emails (pasted below) he has received from Kansans struggling to find baby formula. The exchange comes on the heels of President Joe Biden signing into law Senator Marshall's Access to Baby Formula Act, which addresses the baby formula shortage for families who rely on the Special Supplemental Nutrition Program for Women, Infants, and Children (WIC). You may click HERE or on the image below to watch Sen. Marshall's exchange.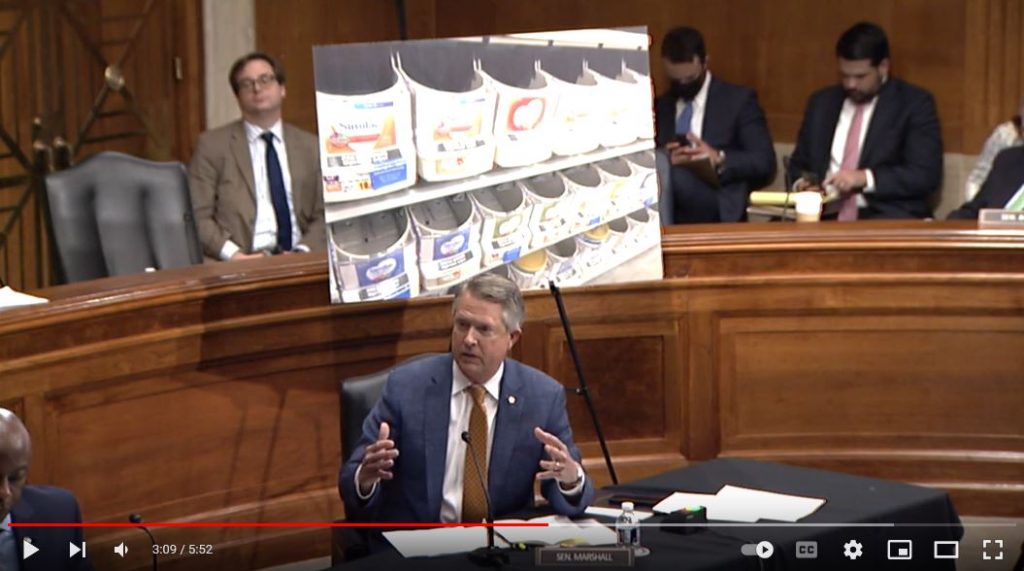 Senator Marshall said in part: "You and I are both physicians. We both know that no matter what happens in the operating room, the delivery room, or the emergency room, that we are responsible for it regardless of what the people beneath us did – their actions, their inactions – that we feel that sense of responsibility. I am sure you do too. I want to start here by reading a couple statements… What would you suggest I tell these Kansas moms?
"This is a small sampling of what we've received:
"Stacey, Newton, KS: I have a 5 month old grandson and another on the way. The shelves are empty in Newton Kansas and surrounding areas. Please help!!!! This should be TOP PRIORITY for ALL AMERICANS!!!!
"Ana, Wichita, KS: This is unacceptable in America. How have we let this get to this point. No parent should be worried about not having food available in the stores to feed their child… The empty shelves is what I'd expect to find in Havana, Cuba, not Wichita KS.
"Judy, Overland Park, KS: "The new press secretary laughed today when a reporter asked her who the point person was for the formula shortage. She had no idea who the point person was. All I can say is May God help the babies.
"Janae, Cimarron, KS: The shelves at the stores are empty. How are we supposed to feed our babies?… I believe the government needs to step in and get answers to the public and get the formula shortage resolved.
"Katie, Manhattan, KS: There's no room for bureaucracy when it comes to our nation's babies.
"Lisa, Seneca, KS: I am an expectant mother due in June and I am terrified I will not be able to find formula for my newborn… We already have to worry about high gas prices, inflation, etc. I don't need another thing to worry about."
Background:
Last week, Senator Marshall led 21 of his colleagues on a letter demanding answers from the U.S. Food and Drug Administration (FDA) regarding its inadequate investigation into Abbott Nutrition's Michigan manufacturing facility and failure to mitigate the nationwide baby formula shortage. The senator is also seeking answers regarding when the White House was made aware of the dire situation and the steps available to limit the harmful impact on families and their newborns.
Senator Marshall, an OBGYN, also launched a webpage to help struggling Kansans with the baby formula shortage and understand safe infant feeding practices. You may click HERE or on the image below to access the webpage.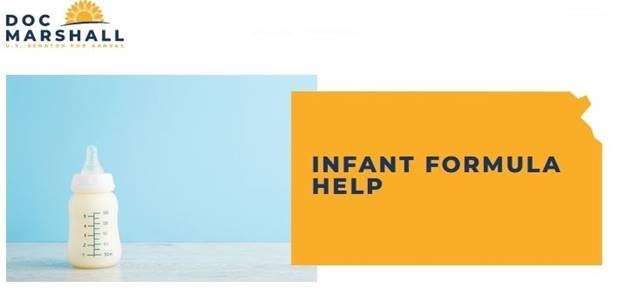 Background on the Access to Baby Formula Act:
Give USDA permanent authority to respond in the event of a product recall or supply chain disruptions and provide WIC flexibilities including:

Allowing vendors to exchange or substitute authorized supplemental foods;

Allowing flexibility so a doctor's note is not needed to access another brand of formula;

Flexibilities on the maximum monthly allowance for infant formula, and;

Allowing for additional flexibilities so long as they do not substantially weaken the nutrition quality of the products.

Give USDA permanent authority to respond to an emergency or disaster and provide WIC flexibilities as needed.
Require baby formula rebate contracts to include a plan to respond to a baby formula recall, including how the manufacturer would prevent shortages of baby formula and require manufacturers to follow these new requirements in the event of a recall.
Ensure that FDA and USDA have a Memorandum of Understanding so that FDA is increasing communication with USDA. It is key that USDA has access to information so that the Department is prepared to respond to potential shortages within the WIC program.
###