Sen. Marshall: America is Ashamed of How This White House is Treating Our Soldiers
(Washington, D.C., December 15, 2022) – U.S. Senator Roger Marshall, M.D. discussed his longstanding efforts opposing the Biden Administration's COVID-19 military vaccine mandate during a press conference today. Thanks to advocacy by Senator Marshall and his colleagues, the 2023 National Defense Authorization Act (NDAA) includes a provision that halts the Department of Defense (DOD) from forcing servicemembers to get the COVID-19 vaccine. Last year, Senator Marshall led successful efforts to ensure that service members who refused the COVID-19 vaccine did not receive a dishonorable discharge.
During the press conference, Senator Marshall said in part,
"America is ashamed of how this White House is treating our soldiers…I'm so proud of this caucus, the people standing beside me, who helped us stop the dishonorable discharge, but that is not enough. Now we need to stop this vaccine mandate, we need to give the soldiers back pay and their families the back pay that they deserve as well… We know that the complication risk, especially for young, healthy men is extremely high from the vaccine causing pericarditis and other autoimmune problems. And now we want to still kick them out of the military because they refused the vaccine? America was led down a path of lies and deception by Dr. Fauci, the NIH, the CDC…"
You may click HERE or on the image below to watch Sen. Marshall's full remarks. 
See below for photos from today's press conference.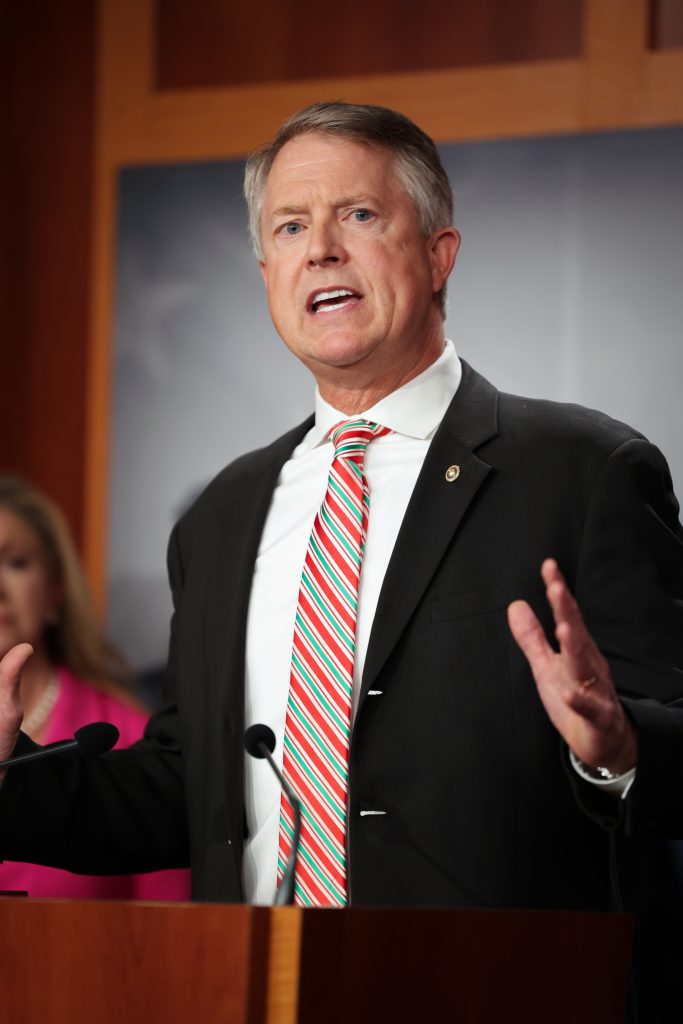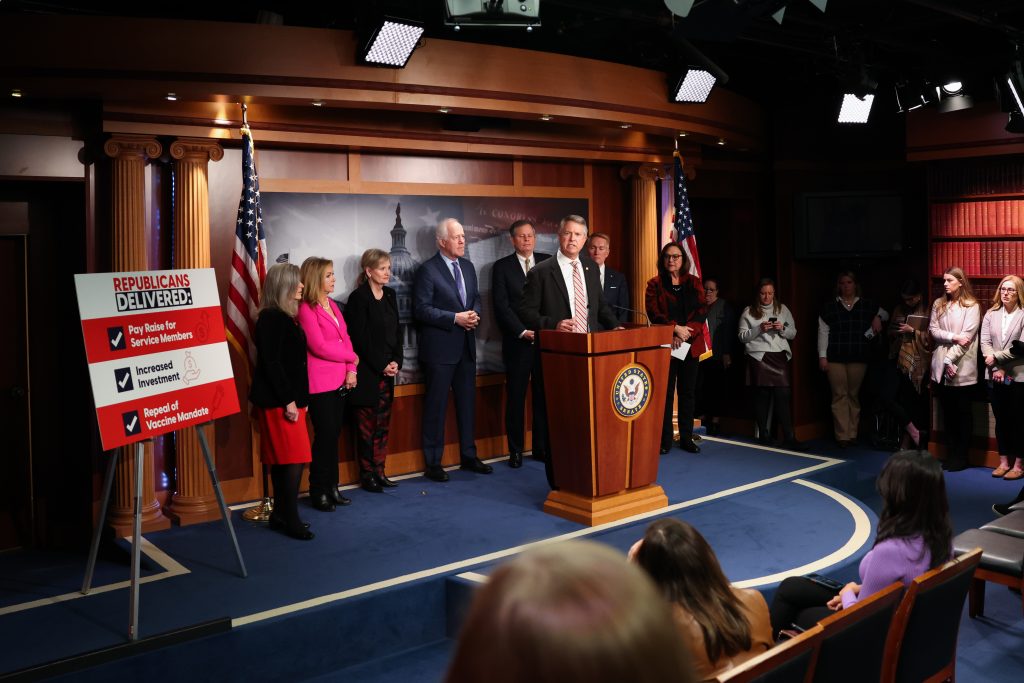 Background on Ending Military Vaccine Mandates through the NDAA:
So far in 2022, the Department of Defense has dismissed approximately 8,000 active-duty servicemembers for refusing the COVID-19 vaccine. Additionally, an estimated 37,000 National Guardsmen and 22,000 Reserve soldiers who refused COVID-19 vaccination were suspended from service, and stripped of their military benefits and pay.
Specifically, the amendment to the NDAA championed by Senator Marshall prohibits involuntary separation of a servicemember for refusal of the COVID-19 vaccine until each Service achieves its authorized end strength.
Last week, Senator Marshall and 12 of his colleagues wrote a letter to Senate Republican leadership expressing opposition to moving forward with the NDAA unless the Senate votes on an amendment to prohibit discharges from the Armed Forces solely because of COVID-19 vaccination status. This effort was successful. Senator Marshall and his colleagues also requested that leadership include an amendment to reinstate service members already discharged, with back pay, but the group's efforts fell short. You may click HERE to read the letter to Senate Republican leadership.
Background on Senator Marshall's Opposition to Military Vaccine Mandates:
In December 2021, Senator Marshall's legislation to prevent service members from receiving a dishonorable discharge for choosing to not get the COVID vaccine was signed into law by President Joe Biden as part of the 2022 NDAA. You may click HERE or on the image below to watch a highlight video of Senator Marshall's fight against dishonorable discharges for service members who choose to not get the COVID vaccine:
The COVID-19 Vaccine Dishonorable Discharge Prevention Act was introduced by Senator Marshall on the heels of President Biden mandating millions of Americans to get vaccinated and the DoD issuing guidance stating that soldiers who refuse the vaccine will face "administrative or non-judicial punishment [under UCMJ] – to include relief of duties or discharge."
Soon after introduction of the bill, the White House announced opposition to the Senators' legislation and in turn doubled down in their support to give service members a dishonorable discharge for refusing the COVID vaccine. As such, Senator Marshall offered his legislation as an amendment to the NDAA.
Dishonorably discharged U.S. service members surrender the following rights and benefits:
Ownership of any sort of firearm or ammunition
Access to the GI Bill for further education
VA home loans
VA medical benefits
Military Funeral Honors
Re-enlistment in another military branch
Senator Marshall penned an op-ed for FOX News on his legislation. You may click HERE to read it. You may also click HERE or on the image below to watch Senator Marshall's press conference on his legislation.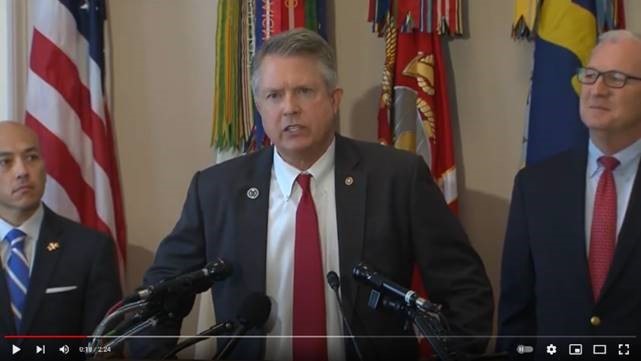 In June 2022, Senator Marshall announced support for two pieces of legislation to protect Americans attending our nation's service academies who choose not to get vaccinated against COVID-19. The Defending Freedom of Conscience for Cadets and Midshipman Act of 2022 would protect cadets and midshipmen at the U.S. Air Force Academy (USAFA), U.S. Naval Academy, U.S. Military Academy, U.S. Coast Guard Academy, and U.S. Merchant Marine Academy from being punished for their choice to not receive the COVID-19 vaccine. The Allowing Military Exemptions, Recognizing Individual Concerns About New Shots (AMERICANS) Act of 2022 would counter the Biden Administration's efforts to coerce and punish active duty service members who decline the COVID-19 vaccine, and introduce accountability measures in response to U.S. Department of Defense (DoD) efforts to undermine transparency.
At the time of Senator Marshall's support for these bills, the U.S. Air Force Academy had recently announced unvaccinated graduates would not be commissioned. Under the plan, cadets and midshipmen who do not commission could be forced to repay tuition, room, and board expenses for their time at the Academy.
###