Sen. Marshall Supports 2023 National Defense Authorization Act
(Washington, D.C., December 16, 2022) – U.S. Senator Roger Marshall, M.D. voted in favor of the 2023 National Defense Authorization Act (NDAA), legislation that is critical to American military preparedness. Thanks to advocacy by Senator Marshall and his colleagues, the NDAA includes a provision that halts the Department of Defense (DOD) from forcing service members to get the COVID-19 vaccine. Last year, Senator Marshall led successful efforts to ensure that service members who chose not to take the COVID-19 vaccine did not receive a dishonorable discharge.
"Eliminating Joe Biden's shameful COVID-19 military vaccine mandate is one of the many victories for our soldiers in this year's NDAA," said Senator Marshall. "Thousands of brave service members were stripped of their dignity when they were forced out of duty by this administration's radical vaccine politics, and rolling back this mandate restores some of that dignity. While my fight continues to secure back pay and reinstatement for those who were discharged over their vaccination status, I was proud to support this package that gives our troops the resources they need to challenge global threats and compensates them well for their service to our country."
The 2023 NDAA now heads to President Biden's desk to be signed into law.
Yesterday, Senator Marshall discussed his longstanding efforts opposing the Biden Administration's COVID-19 military vaccine mandate during a press conference. You may click HERE or on the image below to watch Sen. Marshall's full remarks.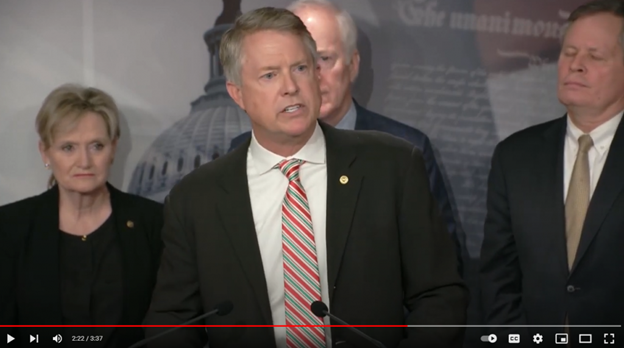 Background on Ending Military Vaccine Mandates through the NDAA:
So far in 2022, the Department of Defense has dismissed approximately 8,000 active-duty servicemembers for refusing the COVID-19 vaccine. Additionally, an estimated 37,000 National Guardsmen and 22,000 Reserve soldiers who refused COVID-19 vaccination were suspended from service, and stripped of their military benefits and pay.
Specifically, the amendment to the NDAA championed by Senator Marshall prohibits involuntary separation of a servicemember for refusal of the COVID-19 vaccine until each Service achieves its authorized end strength.
On November 30, Senator Marshall and 12 of his colleagues wrote a letter to Senate Republican leadership expressing opposition to moving forward with the NDAA unless the Senate votes on an amendment to prohibit discharges from the Armed Forces solely because of COVID-19 vaccination status. This effort was successful. Senator Marshall and his colleagues also requested that leadership include an amendment to reinstate service members already discharged, with back pay, but the group's efforts fell short. You may click HERE to read the letter to Senate Republican leadership.
Background on the NDAA:
Along with Senator Marshall's amendment ending the COVID-19 military vaccine mandate, the 2023 NDAA also includes the following provisions:
Providing funding to support a 4.6 percent pay raise for both military servicemembers and the DOD civilian workforce;
Authorizing funding to ease the impacts of inflation on the force and increases the resources available to support military families;
Ensuring servicemembers have access to quality housing, including by extending the authority to adjust the basic allowance for housing in high-cost areas;
Authorizing critical investments in battle force ships, submarines, aircraft, combat vehicles, long-range artillery, and other equipment to maintain our combat advantage;
Deterring China by increasing our investments in the Pacific Deterrence Initiative and authorizing the Taiwan Enhanced Resilience Act of 2022, which is designed to increase our security cooperation with Taiwan;
Confronting Russia and supporting Ukraine by authorizing increased funding for the European Deterrence Initiative and the Ukraine Security Assistance Initiative;
Strengthening and securing the national supply chain and supporting the defense industrial base, including temporary authorizations to waive certain restrictions related to contracts for munitions to support Ukraine or to increase the Defense Department's stocks of critical munitions;
Modernizing our military technology and capabilities, including hypersonic weapons, artificial intelligence, quantum technologies, and biotechnologies;
Authorizing $1 billion for the National Defense Stockpile to acquire rare earths and critical materials required to meet the defense, industrial, and civilian needs of the United States;
Providing increased funding for military construction;
Maintaining and modernizing our secure, credible nuclear deterrent;
Advancing the development of various missile defense programs and systems;
Strengthening the Department of Defense's cybersecurity strategy and capabilities.
###