Sen. Marshall Releases Report on the Economic Cost of Vaccine Mandates in Kansas
(Washington, D.C., November 19, 2021) – U.S. Senator Roger Marshall, M.D. member of the U.S. Senate Committee on Small Business and Entrepreneurship, released a report highlighting the economic cost of vaccine mandates in Kansas.
"Each day we hear from Kansans faced with the difficult decision of taking the jab or losing their job, which is why I will keep fighting against ALL efforts to implement and enforce Joe Biden's COVID vaccine mandate" said Senator Marshall. "This mandate is slap in the face to so many people, including our essential workers, who answered the call last year. These are real people working to feed their families and pay their mortgages. We are going to do everything in our power to fight for Kansans who are rightfully concerned and uncertain about their futures."
Highlights:
463,445 Kansas workers or 31% of the total Kansas labor force are at risk of losing their jobs if they do not comply with Biden's authoritarian mandate
Complying with Biden's mandate will cost Kansas businesses an estimated $43 million
38% of Kansas' manufacturing employees are unvaccinated and work at a firm with 100 or more employees
You can read the Kansas report HERE or below.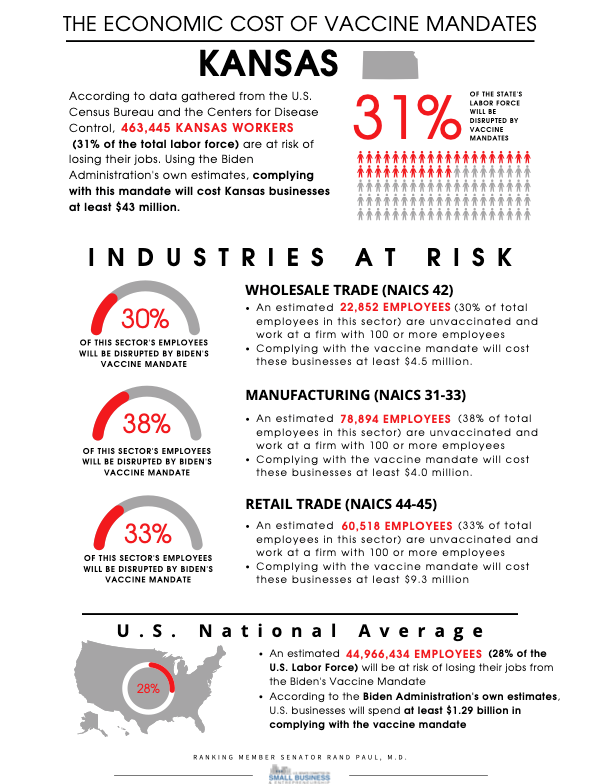 ###