Sen. Marshall: Steady Stream of Chinese Fentanyl is One Supply Chain That's Not Broken
(Washington, D.C., July 26, 2022) – During today's hearing in the Senate Health, Education, Labor, and Pensions Committee, U.S. Senator Roger Marshall, M.D. questioned federal officials on the Biden Administration's response to the deadly fentanyl crisis wreaking havoc in Kansas and across the U.S. During his opening remarks, Senator Marshall said in part,
"Kansas is literally at the crossroads of fentanyl trafficking… With three major arteries coming out of Mexico piercing the heart of my great state, and all 3 bisecting the nation's busiest east-west byway, we are now ground zero… In Mexico, Chinese chemists and the cartels convert these precursors into fentanyl, and lace fake pills like Adderall, or Xanax, or Percocet, or mix with illicit drugs like meth and cocaine… Unfortunately, this is one supply chain from China that's not broken… Dying from fentanyl is poisoning, not an overdose."
You may click HERE or on the image below to watch Senator Marshall's full opening remarks and line of questioning.
Background:
Participating in the hearing were Miriam E. Delphin-Rittmon,Assistant Secretary for Mental Health and Substance Use, Substance Abuse and Mental Health Services Administration; Carole Johnson, Administrator, Health Resources and Services Administration; Christopher Jones, Acting Director, National Center for Injury Prevention and Control, United States Centers for Disease Control and Prevention; and Kemp Chester, Senior Policy Advisor for Supply Reduction and International Relations, Office of National Drug Control Policy.
Senator Marshall, along with Senators John Barrasso, M.D. (WY), John Boozman, O.D. (AR), Bill Cassidy, M.D. (LA), and Rand Paul M.D. (KY), recently released a public service announcement (PSA) warning about the dangers of illicit fentanyl that is wreaking havoc in communities throughout the nation and killing Americans at record rates. You may click HERE or on the image below to watch the PSA.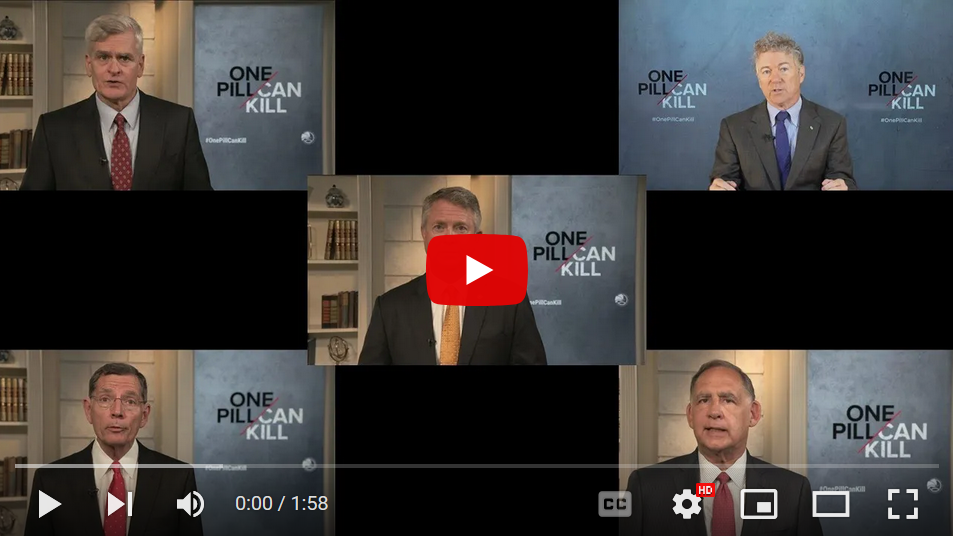 Recently, Senator Marshall questioned CDC Director Rochelle Walensky at a hearing about the illicit fentanyl crisis that is wreaking havoc across Kansas. The questions come on the heels of law enforcement officers in Kansas City, Kansas seizing nearly 15,000 counterfeit pills laced with fentanyl during a two-day bust and Wichita officers seizing nearly 7,000 illegal fentanyl pills during a single traffic stop. You may click HERE or on the image below to watch his remarks and questioning.
Additionally, Senator Marshall announced support for the Stop Fentanyl Border Crossings Act, legislation to expand pandemic-related Title 42 expedited removal authority to combat the fentanyl overdose epidemic resulting from drug smuggling across our southern border.
Recently, on National Fentanyl Awareness Day, Senator Marshall announced support for the HALT Fentanyl Act. The legislation would permanently give law enforcement the tools to help combat the fentanyl crisis by permanently placing fentanyl-related substances as a class into Schedule I of the Controlled Substances Act. A Schedule I controlled substance is a drug, substance, or chemical that has a high potential for abuse; has no currently accepted medical value; and is subject to regulatory controls and administrative, civil, and criminal penalties under the Controlled Substances Act. Fentanyl-related substances' current Schedule I classification is temporary and set to expire later this year.
Last month, Senator Marshall and Kansas Sheriffs Calvin Hayden (Johnson County), Brian Hill (Shawnee County), Roger Soldan (Saline County), Jeff Richards (Franklin County), and Tim Morse (Jackson County) traveled to the Southern Border for briefings, tours, and meetings with border patrol officials, within DHS and the state of Texas. The trip came amid the pending expiration of Title 42 and the growing fentanyl crisis that is wreaking havoc in Kansas and across the nation. You may click HERE or on the image below to watch a recap visit of their trip.
You may click HERE or on the collage below to download high-res photos from their trip.
Senator Marshall is a cosponsor of a Senate resolution to designate May 10, 2022 as National Fentanyl Awareness Day. The resolution supports the mission and goals of National Fentanyl Awareness Day in 2022, including increasing individual and public awareness of the impact of fake or counterfeit fentanyl-related substances on families and young people.
###