Sens. Marshall, Ossoff Legislation Cuts Red Tape Surrounding Farm Vehicles
(Washington, D.C., November 2, 2021) – U.S. Senators Roger Marshall, M.D. (R-KS) and Jon Ossoff (D-GA) introduced the Covered Farm Vehicle Modernization Act to expand and modernize the exemptions for Covered Farm Vehicles to more adequately reflect the variety of vehicles commonly used by today's farmers and ranchers. It adjusts exemption thresholds and removes the extra regulatory red tape regarding DOT registration and fuel tax licensing requirements that have little to do with vehicle safety.
"America's farmers and ranchers have some of the most difficult jobs in the world, and the last thing they need is more government red tape hindering their day to day operations," said Senator Marshall. "This bipartisan legislation removes out of date regulations to better reflect modern day farm vehicles, and ultimately allows folks to legally pull a gooseneck trailer with their pickup truck without jumping through hoops to obtain a for-hire commercial driving license."
"This legislation will make it easier for our hard-working family farmers to transport their products and get them to market," Senator Ossoff said.
Background:
The Covered Farm Vehicle Modernization Act expands exemptions for Covered Farm Vehicles (CFV) to allow farm vehicles with a gross vehicle weight (GVW) or Gross Vehicle Weight Rating (GWVR) under 36,001 pounds to travel across state lines with the same exemptions currently granted to farm vehicles under 26,001 pounds GVWR or GVW. The legislation exempts CFV's from needing a USDOT number, filing a unified carrier registration, and obtaining an Interstate Fuel Tax Agreement license. Three things that current farm vehicles still may need depending on their GVW or GVWR regardless of if it is a CFV.
A covered farm vehicle is currently defined by the following standards:
Registered in a state with a license plate that identifies it as a farm vehicle.
Operated by an owner-operator of a farm, or by a family member or employee of the owner-operator
Transporting agricultural products, livestock, farm machinery or supplies to or from a farm
Not used in for-hire motor carrier operations
Not transporting hazardous materials that require placarding, and;

Has a GVW or GVWR (whichever is greater) of 26,001 pounds or less, or

Has a GVW or GVWR (whichever is greater) of more than 26,001 pounds and travels within the State where it is registered or, if traveling out of the State where it is registered, stays within a 150 air miles of the owner or operator's farm or ranch.
Examples of current federal rules:

This is a ¾ ton truck with a tandem axle gooseneck, a common farm vehicle combination across the U.S. that does not require a CDL to drive.

This is a one ton truck with the same trailer and load as above, another common farm vehicle combination, yet the driver would need a CDL because the truck has a slightly larger GVWR. Our bill aims to provide parity with ¾ ton and one ton vehicles.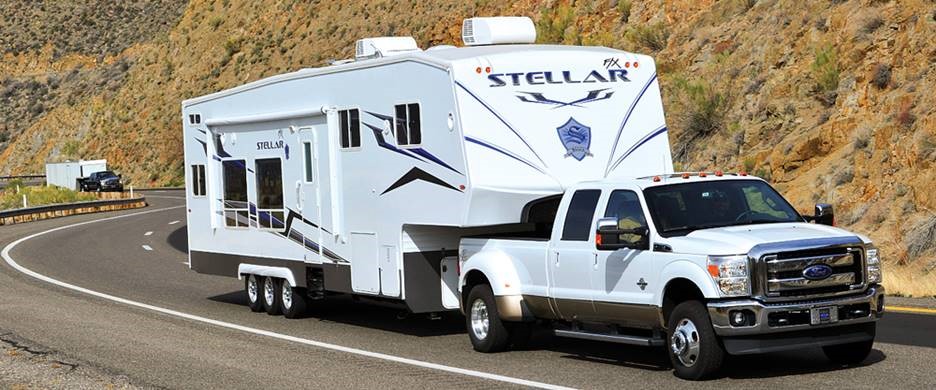 This is a one ton truck with a large gooseneck camper that has a larger GVWR than the trailers above. There are no federal requirements for a CDL because it is a recreational vehicle rather than one used for business.
###